Most Beautiful Beaches in the World: In 2022, the most beautiful beaches globally were able to be ascertained by a thorough scour through all the populous and striking beaches, seashores, and islands all around the world in this article. These beaches were proved by facts and pictures to be the best as at today. Some of which are locates in Africa (South Africa particularly) while some in other continents of the world.
Today, different reasons can bring visitors or tourists in these beaches which may include: honeymoon (maybe for new wedded couple), lifetime vacation (which may be romantic, adventurous, or both).
Now let us see the most beautiful beaches in the world as at 2022.
Recommended: Most beautiful animals in the world 2022
Top 11 Best And Most Beautiful Beaches in the World With Pictures
1. D' Argent Anse Source, La Digue (Seychelles): This is one of the beaches or rocks located in Seychelles and it has attractive and clean water bodies. Seychelles is a country that is situated between Kenya and Madagascar and its islands and beaches are referred to as "paradise of real-life" because of its beauty and attraction.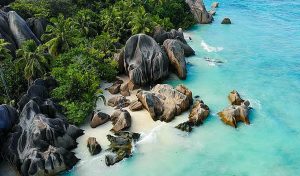 Today, D' Argent La Digue is one of the smallest inhabited islands, but it is one of the most beautiful of its kind all over the world and observers travel far and near to Seychelles in order to behold its beauty. It has private niches among its boulders and cleanest water in the whole world. This beach also has Anse Marron in its hills (through the surf) and there is the location of the handy buoy-like boulders which hold the cove closely and form a pool.
This beach is not just so beautiful but also magical in its shimmering sand (rocks) and shallow warm waters and a sea turtle can even be spotted while it swims off the seashore.
Also see: Most Intelligent Animals in the world
2. Hidden Marietas Beach (Mexico): This beach is so beautiful and is situated in Mexico. It has a wonderful yellowish rocks turned away at the National Park of the country and can only be accessed by swimming at low tide through a tunnel at the beach.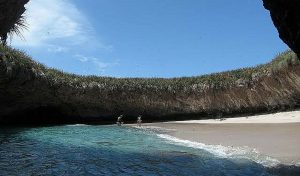 This beach is otherwise known as "Playa del Amor" and is really a dreamlike spot. Most importantly about this beach, it is widely opened (about 100-foot-wide hole in the earth) and is said to have been formed when weapons were tested at the beach by the country's government. Today, contrary to the word which is added to its name (that is "hidden"), it is one of the most popular and most beautiful beaches all over the world and visitors (both in and ouside the country) are amazed at the wonders of this beach.
Okay, you can't ask a beach, but still, this curious cavern is one of the most unusual beaches in the world.
Recommended: Most Beautiful Countries in The World and Why
3. Ipanema Beach (Brazil): This beach is located at the center of a city known as "Rio de Janeiro" in Brazil and over the years, it has been used in decorating billboards and travel brochures anywhere in the world so as to attract travellers or tourists at that location to its beauties and eventually, they always have good experiences.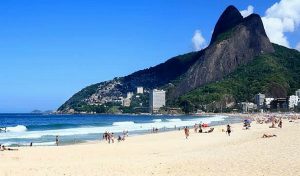 At this beach, visitors observe, play games, sun themselves, or surf all together without any seclusion. Other attractive engagements at this beach include: tangible party vibes and the Dois Irmãos mountains which most travellers cannot afford to miss.
Ipanema golden beach also has: bohemian caves, antique stores, art galleries, a tropical side (where tourists can have a nice beach time), among other provisions. As part of its outstanding beauty, the beach is divided into: surfers, gays, jocks, and hippies with some exhibitionists in between them.
Today, it is reported to be among the most beautiful beaches across the globe.
4. Siesta Key Florida (United States): This beach has cool and beautiful quartz-crystal white rocks and people usually come around it in order to relax and it cannot be overcrowded. While relaxing, tourists enjoy themselves with beverages and there there also provisions which include: paddleboards, kayaks.e.t.c. at the beach.
Today, Siesta Key Florida is too beautiful and popular for its easy lapping waves and quartz-crystal powdery rocks in that visitors hardly leave the beach at the end of their stay.
Recommended: Countries with the best education system in the world
5. Elafonisi Beach (Greece): This gorgeous beach is located at Crete in Greece with attractive pink rocks (sand from the crushed seashell powder) and white sea and has been frequently displayed in social media as one of the superstar beaches all over the world.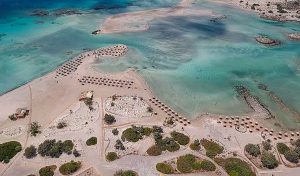 Some years ago, this beach was too local for global recognition but most recently, has become a sensation for most trending social media platforms (such as: Facebook, Instagram.e.t.c.) and tourists (in their number) are rushing to it so as to behold the immeasurable beauties therein. This beach is connected to an island nature reserve by a sandbar and today, its beauty is beyond description and one really needs to visit it so as to observe better.
6. Seven Mile Beach (United Kingdom): This beach is so beautiful that it has recieved so many Caribbean awards on different occasions. It has a charming stretch of bright, soft, white sand with bars, swank resorts, restaurants, and some other activities going on such as excursions for snorkeling or parasailing off the coast at the Cemetery Reef. Its sand is also coral and with sparkling waters and these make the beach so wonderful that the beauties seem out of this world.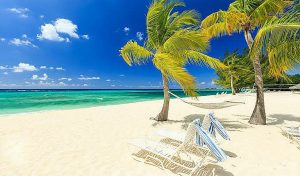 Today, it is not just among the most beautiful, but also among the most popular beaches all over the world.
Recommended: Differences Between Goals and Objectives
7. Praia da Rocha Beach, Algarve (Portugal): Protugese city of Algarve has some towns with wonderful beaches with resort centers around them. Such towns include: Faro, Lagos, and Tavira Which is the largest among others).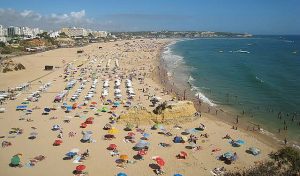 This beach has a clear water body, golden rocks, pink-and-green cave, and a charming stretch of land. It is famous for its pink and sand bars, turquoise lagoons, and spacious shores to relax on by visitors.
Indeed, it is an idyllic paradise and so beautiful to behold and to hold night parties all along. The beautiful Lagos town beach (known as Praia Do Camilo) is not too far from the Praia da Rocha beach and is close to the Ponta da Piedade (this is a landmark rock formation which has rock arches and grottoes).
Today, the Praia da Rocha beach (alongside other beaches in Algarve) deserves to be gorgeously regarded more by tourists because of its natural admirations.
8. Maundays Beach, Anguilla (United Kingdom): Today, this beach is one of the best for honeymoon and other party events as it is too beautiful for such occasions (even more) but these events would be best done at this beach at sunsets.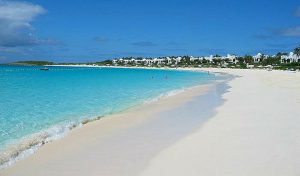 This beach is an excellent picture for Carribean with clean waters, white seashores, and glistening lights. It is worthy even for extra special outings as it is so beautiful.
Recommended: Fastest Motorcycles In The World 2022 (With Pictures)
9. Whitehaven Beach (Australia): Whitehaven beach is located at the Whitsunday Island in Australia and it is the largest, whitest and brightest beach in that country and one of the most beautiful of its kind across the globe. Its rocks has silica which helps them to retain their beautiful colour and avoid heat from the Aussie sun (and as such, it is a perfect place for a stroll of barefoot even when the day is hot).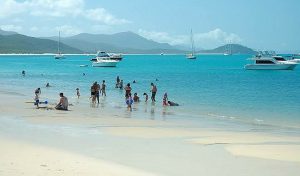 This beach has clear water which flows to the Great Barrier Reef thereby forming a refreshing dip, and tidal currents sculpt the rocks to changing depths and forming beautiful swirls of blue and green ocean. The beauty of this beach attract a lot of travellers annually and the Australian government has put in effort towards the maintenance of that reputation.
Some of the outcome are the Hub of the Whitsunday Climate Innovation (which is under the management of its Regional Council which also works in line with the marinas, operators of marine tourism, and island resorts in order to reduce the footprint of their carbon.
Also see: Advantages and Disadvantages of Being a Teacher
10. Hyams Beach (Australia): Hyams beach is located at New South Wales in Australia and is not far from Sydney (there are pine forest parts and beautiful white sand in between them). The waves of Hyams seashore is perfect and comfortable for snorkeling and the sringrays but may not be at when paddled at its pod of frolic dolphins. It has picnic tables at Greenfield Gully.
Today, it is one among the most beautiful beaches around the world.
Recommended: Best Side Hustles for teachers while in school
11. Matira Beach (France): It is located at the southern part of Bora Bora Polynesia in France and is best in accessibility of rocks stretch. Usually, visitors stroll along this beach when the sun goes down because of the pleasantness of the beach weather at that time.
At that same time (sunset), visitors and tourists can order for cocktails and enjoy the time at the restaurant at the beach. Its ocean is so clear, quiet and glistening and its white grains are silky-soft underfoot and today, it has been enlisted among the most beautiful beaches in the whole world.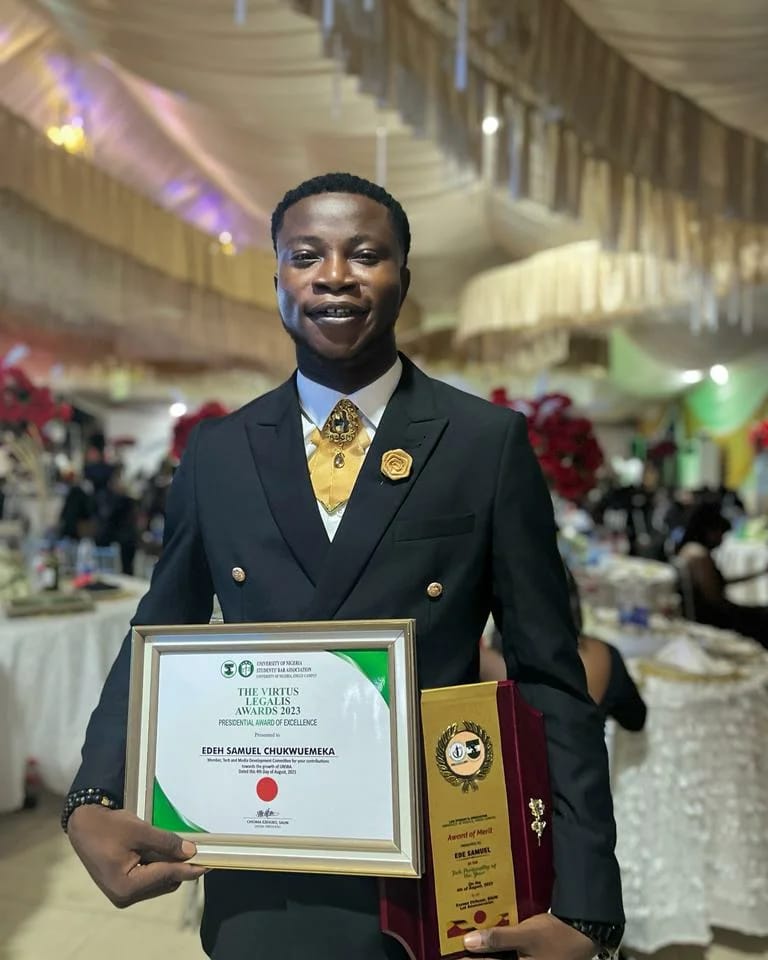 Edeh Samuel Chukwuemeka, ACMC, is a lawyer and a certified mediator/conciliator in Nigeria. He is also a developer with knowledge in various programming languages. Samuel is determined to leverage his skills in technology, SEO, and legal practice to revolutionize the legal profession worldwide by creating web and mobile applications that simplify legal research. Sam is also passionate about educating and providing valuable information to people.