Best Keyboards For Programmers: Choosing a keyboard that works for you can significantly increase your productivity. A keyboard is one of the most important tools in a programmer's toolkit. For spending countless hours coding, a comfortable keyboard with features like macro-programmable keys and switches that feel light and responsive is essential. The best programmers' keyboards will boost productivity while lowering hand and mouse fatigue.
Every programmer starts with the keyboard they have available, which is likely your laptop's keyboard these days. On the other hand, you'll want to spend money on a good keyboard once you start typing in code for a living. For you to type quickly and comfortably, a keyboard for programmers must first have the "right" feel for your particular typing style.
An efficient coder will make fewer mistakes and use the mouse less if they are more at ease with the keyboard. Advanced programmers will also long for a keyboard that they can program, one that has dedicated keys that can be set to open particular apps or carry out specific tasks. If you type all day long, an ergonomic keyboard can be a good choice for you since it should ideally also keep you healthy.
It's important to decide which characteristics are best for you and your work before searching for the finest keyboards for programming. In light of this, this post will examine some of the top programming keyboards.
Recommended: How to Learn a New Skill Quickly
Top 7 Of The Best Keyboards For Programmers
1. Corsair K95 Keyboard For Programming: This fantastic Corsair keyboard has a full-size 105-key layout and comes with a detachable leatherette palm rest to alleviate strain, making it a wonderful option for people looking for the finest keyboard for typing quickly and retaining comfort when working long hours.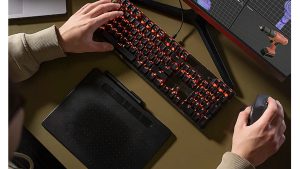 Cherry MX mechanical switches provide a pleasing, tactile click with an incredibly quick 1.2 mm actuation for sophisticated high-speed inputs.
This model, which makes a superb code keyboard for your primary workstation and doubles as a gaming keyboard, features real individual key RGB backlighting, 100% anti-ghosting, full N-key rollover, and other lighting effects. When selecting a keyboard, this is undoubtedly something to consider.
2. Keychron Q2: Additionally, this is among the top keyboards for programmers. This keyboard is extremely well made, and it sounds, feels, and looks excellent right out of the box. The extensive level of customization available with all of Keychron's Q-series keyboards is one of its most notable selling factors. You can quickly swap out the switches, stabilizers, or keycaps because the PCB is hot-swappable.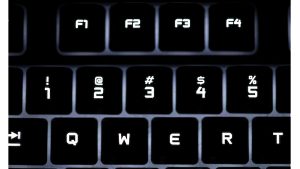 See Also: Safest States In Nigeria 2023
To help you thoroughly disassemble your keyboard and advance your modding hobbies, there is even a toolbox supplied.
Additionally, every keyboard in the Q Series offers a very pleasant and highly customizable experience. Additionally, they are completely compatible with QMK and VIA customization tools, allowing you to customize your keyboard to your workflow by making changes at the firmware and software levels.
3. Mountain Everest Max: This keyboard pushes the boundaries and innovates in areas where others have never dared to go, starting with its most glaring feature: the numeric keypad is detachable and can be put on either side of the keyboard.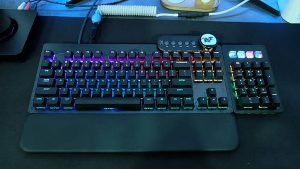 With the keycap puller tool that is included, the keycaps may be changed, and you can select your preferred MX switch type when you buy it, with options including MX Red, MX Brown, MX Blue, MX Silent Red, and MX Speed Silver. In contrast, if you're not happy with the original switches, you can just pull them out and replace them without having to solder anything.
In addition, the Mountain Everest Max has a "media dock"—a tiny keyboard—that is tucked into the upper right corner. Its tiny display can show useful information like CPU use or download speed, and when not in use, it can display a customized image you've uploaded as a "screen saver." It also has media controls so you can adjust the music or volume even while you're still in the middle of coding.
See Also: Highest Paying Courses In Nigeria 2023
4. Obinslab Anne Pro 2 Wireless Keyboard: Gatreon mechanical switches and the ease of dual connectivity modes, which give users the choice of USB-C wired or Bluetooth wireless keyboard capability, combine to create an authentically retro typing experience on this small 60% keyboard.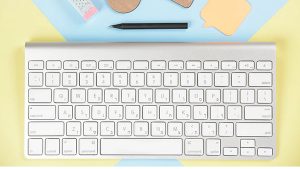 Additionally, it is modest in size and has a minimalist appearance that complements the majority of gadgets. This frees up less valuable desk space.
If you're searching for the best 60% keyboard for programmer tasks, design work, and light coding, the tactile feedback and configurable options make this an excellent option as well. When used in USB mode, it features a full N-key rollover, customizable macros and function keys, and real RGB backlighting.
5. Kinesis Advantage 2: Kinesis emphasizes ergonomics, and while the Advantage2 may require some getting used to, its novel design strives to address the important factors that influence a user's comfort. Concave key wells with palm rest and a bowl-shaped scoop are part of the unconventional design. Kinesis aids in reducing hand and finger extension and easing muscular strain.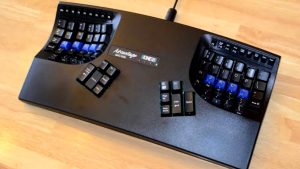 To ensure better alignment, the arms are also positioned in the individual key wells at shoulder width. They claim that the key wells more organically imitate the biomechanics of a hand's action by raising the thumb side of the hand and gently tilting it upward. It also has
Cherry MX mechanical keys, which are marketed as being long-lasting and supporting fluid typing. Windows 7 through 10, Mac OS, Linux, and Chrome are all compatible with the keyboard.
Must Read: Differences Between Education And Schooling
6. Kinesis Freestyle Pro: Eight programmable macro keys are located on the left of the Kinesis Freestyle Pro, which has a ten-keyless layout combined with a complete row of function keys up top. It is a mechanical keyboard with two different Cherry MX switch types: Cherry MX Brown click-free tactile switches and Cherry MX Red linear switches, which are more popular among gamers.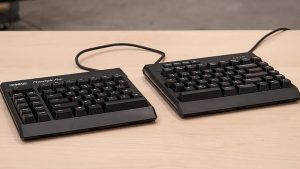 The Windows, Mac, and Dvorak key layouts are supported. The control, option, and command keys, which take the role of the Windows and alt keys, are included in the keycaps for Mac.
The positioning of the Home, Page Up and Down, End, and Arrow keys, as well as the capability for tenting or raising the central area of the keyboard to create a more comfortable typing position, will be appreciated by programmers. Additionally, there are dedicated keys for the following actions: Cut, Copy, Paste, Delete, Undo, and Menu.
7. Logitech k380 Keyboard: The Bluetooth keyboard from Logitech is an affordable choice that's made for programmers on the road and provides quiet typing in a compact, portable device. All users, including those using Windows, Mac, and Chrome OS, are said to be able to use the keyboard since it can instantly adapt to the platform it's attached to.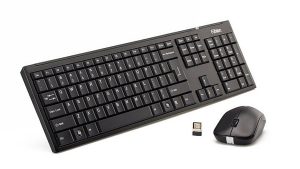 To ensure that your workflow is almost unbroken, there are three yellow buttons with the numbers one through three that users may use to swap the connection between up to three different devices simultaneously. A two-year battery life is claimed by Logitech, and media keys are also included for additional shortcuts.
See Also: Best Generators In Nigeria
Conclusion
Those that are mentioned above are some of the best keyboards for programmers. Consider the size first while selecting the finest keyboard for programmers. Your keyboard's size will affect portability. While a tiny or tenkeyless keyboard operates wonderfully, a full-size keyboard lacks portability.
Check the connectivity of your keyboard next. If it's wireless, you'll love the quick connecting and tidy, wire-free design. However, you should consider what kind of battery wireless keyboards use. If you intend to use the keyboard continually, models with replaceable batteries are ideal.
When selecting keyboards for your level of programming ability, bear the above in mind. While the keyboards above might be expensive, however, there are also less expensive models.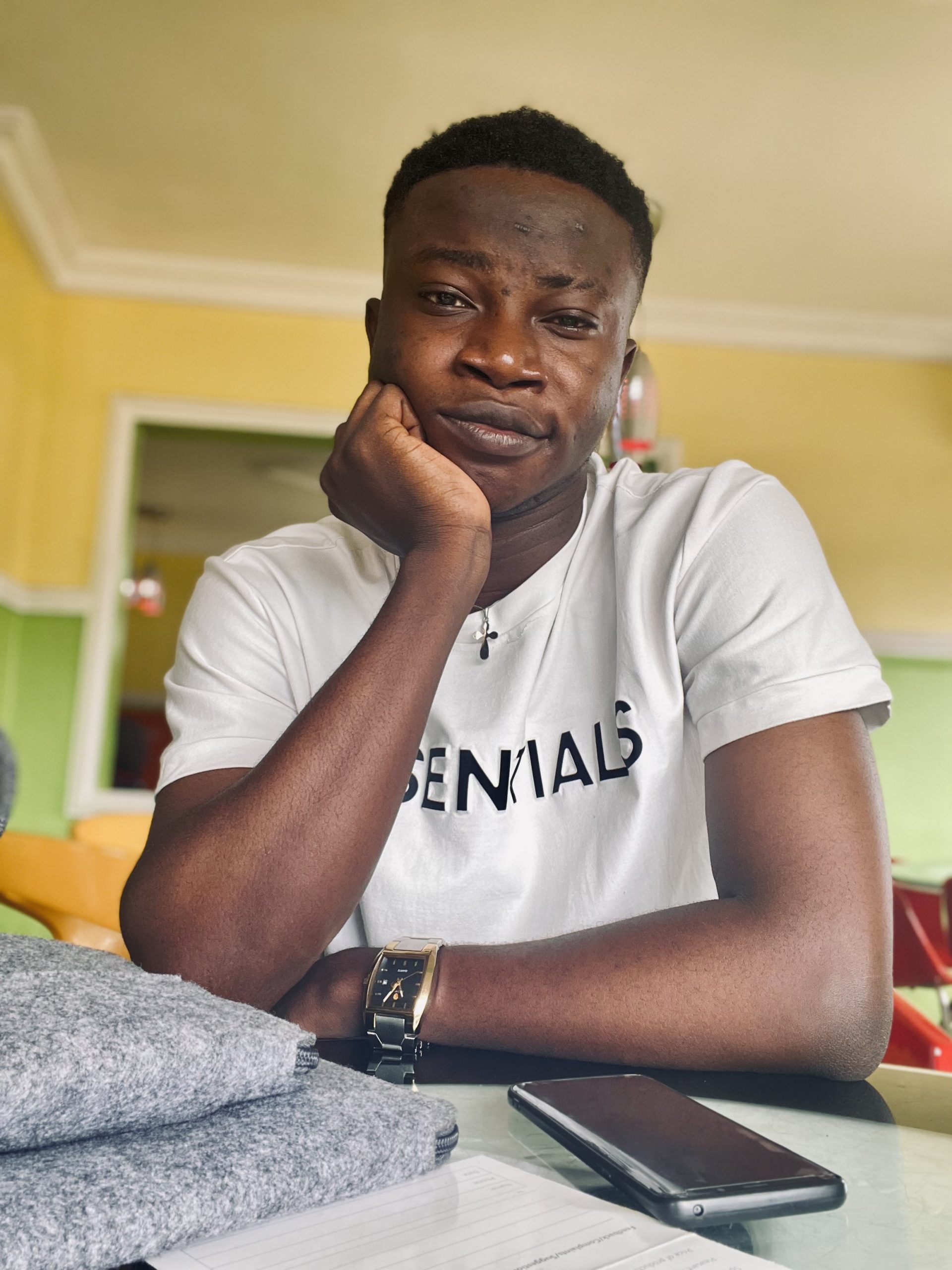 Edeh Samuel Chukwuemeka ACMC, is a Law Student and a Certified Mediator/Conciliator in Nigeria. He is also a Developer with knowledge in HTML, CSS, JS, PHP and React Native. Samuel is bent on changing the legal profession by building Web and Mobile Apps that will make legal research a lot easier.