Most Beautiful Houses In The World: A beautiful house merely employs complimentary colors to the rest of the décor aesthetics – including the roof, floor, furnishings, and accessories. Basically, for a design to be unified and aesthetically pleasing, all components must work together. No matter its size, a home can provide the ideal setting for a caring family.
Of course, everyone aspires to live in a lavish palace, villa, or other opulent home, which, regardless of what others may think, is the most attractive house in the entire world to us who own it. Since most of us feel the safest and most comfortable in our own houses.
Recommended: Oldest Universities In Africa and Their Year of Establishment
Top 10 Most Beautiful Houses In The World With Pictures
1. Villa Omnia, Cap Ferret, France: One of the most popular properties in our inventory, Villa Omnia features traditional Cap Ferret architecture. Its wood and masonry construction merges seamlessly with the neighboring pine woodland.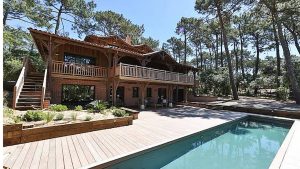 However, rather than blending in with it, this villa's harmony with its surroundings brings out all of its beauty. Its spacious balcony facing the swimming pool is evocative of the colonial homes in Louisiana or the Caribbean.
On the inside, the house is carefully adorned with a dash of boldness, on the other side of the elegant bay windows in black wood. There are many different styles, from the hip mix-and-match living room to the romanticism of a pale pink bedroom or the classic elegance of a marble restroom. You can take in the southwest sun on the roof's balcony in total seclusion.
2. Villa Hanoi, Saint-Tropez, France: Villa Hanoi, a tiny gem of Art Deco construction on the Pampelonne River's shores, is unquestionably one of the top ten most stunning homes in the world.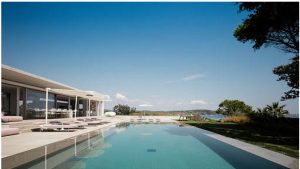 Its modern silhouette, which was sculpted out of glass and concrete, sits in the center of a beautifully manicured lawn.
The house beats that emanate from the incredibly exclusive Nikki Beach can be heard from the candy-pink deckchairs that are positioned around the pool that reflects mirrors.
If it weren't for the olive trees and cypresses placed there, as if to tell us that we are in fact on the French Riviera, we might think we were on Ocean Drive or in Palm Springs.
A sophisticated interior with designer furnishings, fluorescent lighting, and pop details is visible through endless bay windows, and it is obvious that the decoration has been carefully thought out.
For instance, the pink marble countertop in the kitchen is reminiscent of Takashi Murakami's psychedelic blossoms. The walls in the guestrooms are removed to emphasize the breathtaking views of the yard and the Mediterranean that are this exceptional villa's true selling point.
See Also: Advantages and Disadvantages of Being A Man/Male
3. Mas Belle Helene, Provence, France: Mas Belle-Hélène shares the enigmatic allure of Provençal bastides in general.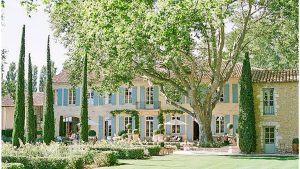 This ancient farmstead from the 18th century is located in the countryside near Avignon, tucked away in the midst of vineyards. Mas Belle-Hélène has kept the ancient stone walls, soft blue shutters, and French gardens from its previous existence.
You can easily picture yourself as a lord in the dining room, where two splendid crystal chandeliers and a portrait of a youthful aristocrat keep watch. Entering this period home is like going back in time. Silverware and porcelain shine on the shelves and in the china cupboard.
However, the spaces themselves still best capture the elegant and pastoral nature of this house. It resembles a Jane Austen book with its floral tapestries and four-poster mattresses dressed in outdated fabrics.
4. Villa A Nepita, Corsica, France: One of the most beloved properties among our visitors is this one situated in the highlands of Ajaccio. With its slender profile confronting the water taking your breath away, it is easy to see why.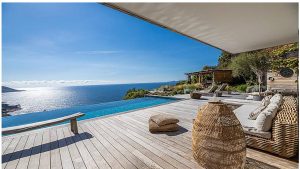 To enhance the view, which is unobstructed as far as the eye can see, the expansive bay windows upstairs open completely onto the balcony. Despite being contemporary, Villa A Nepita is a tribute to the surroundings' natural beauty. It demonstrates how modern buildings and wild nature can coexist.
Villa A Nepita's allure is found in its endless purity; with its spotless white walls, its light wooden terrace, and its bohemian décor, it emanates a welcome sense of tranquility and lushness.
Not to mention the hotel's cantilevered pool, which appears to merge with the Mediterranean Sea's deep blue. It's possible that staying here for your luxurious vacation will make you never want to depart again.
5. Villa Carragueira, Comporta, Portugal: We're going to show you a domain rather than, properly speaking, a home.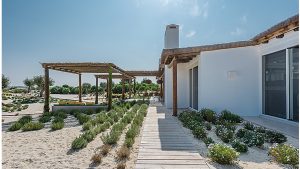 In the Comporta nature reserve, Villa Carragueira spans several hectares. Wooden pathways worn down by the breeze trace a route in the sand to lead you in turn to a tennis court, a swimming pool, a covered pergola, a volleyball or pétanque court, etc.
But let's concentrate on the house and the buildings therein. In keeping with Comporta's architectural style, waxed concrete is combined with timber, wicker, or braided rattan.
Beautiful books and other items that have been returned from travel are proudly displayed in recesses that have been carved out of the walls with an appeal that is both bohemian and fashionable.
Natural colors like linen, sand, and white are gently accentuated by colorful accents like a fuchsia pink bedspread, an ocher tapestry, blue tiles, and turquoise carpet.
Must Read: Countries With Free Education For International Students 2023
6. Villa Blue, Ibiza, Spain: The color of the water in front of Villa Blue is what gave it its moniker. However, Villa Green would have been a more appropriate name for this opulent home, which is located in the San Miquel area, north of Ibiza, and is surrounded by an ocean of lush greenery.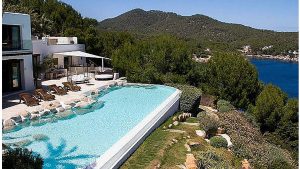 An elegant union of sharp angles and soft curves sits in the center of this stunning scene. From anywhere in the house, you can enjoy the view thanks to the large bay windows. Not to mention the balcony, from which we enjoy rarely surpassed vistas.
The azure and infinite Mediterranean is on one side. On the other, a spotless white patio with a pool shaped like a blue paintbrush. Villa Blue, which is tucked between the two, displays a sophisticated interior with a contemporary touch.
Ebony wood contrasts with the lighter components, while linen and stone are combined with patent leather and all are lit by designer lighting.
7. Villa Gaia, West Greece: Villa Gaia imported the purity and clarity of white from Greece. It has special access to the Mediterranean Sea because it is perched on a cliff.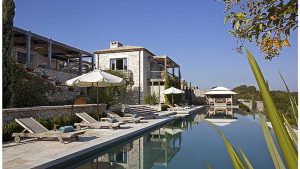 An extra benefit to the lengthy list of attributes that make up this opulent villa. Of course there is the swimming pool, as well as the magnificent patio made of gray stone that flows into the villa's interior.
Without any protection, the sweltering heat of the Mediterranean region enters the living room and finds its way to the sleek black bookcase, where it reflects itself.
This room's striking design establishes the scene: we are in a character-filled villa that is steadfastly contemporary and elegant. The apartments' glazed areas and windows let light into the rooms.
You must go to the cellar if that is the shelter you're seeking. We lose ourselves in a mystery movie there under the radiance of the neon lights that decorate the waxed concrete walls.
See Also: IPhone Or Samsung, Which Is Better In 2023?
Conclusion
Most people will move heaven and earth to create stunning houses that elevate them because they believe that a home is the embodiment of their personality.
Everyone attempts to build architectural wonders to the best of their abilities, regardless of wealth or status.
When it comes to the most stunning homes on earth, the ones on the list are unquestionably at the top of the list.
Even if you only saw pictures of them, you would be in amazement of how amazing they are all.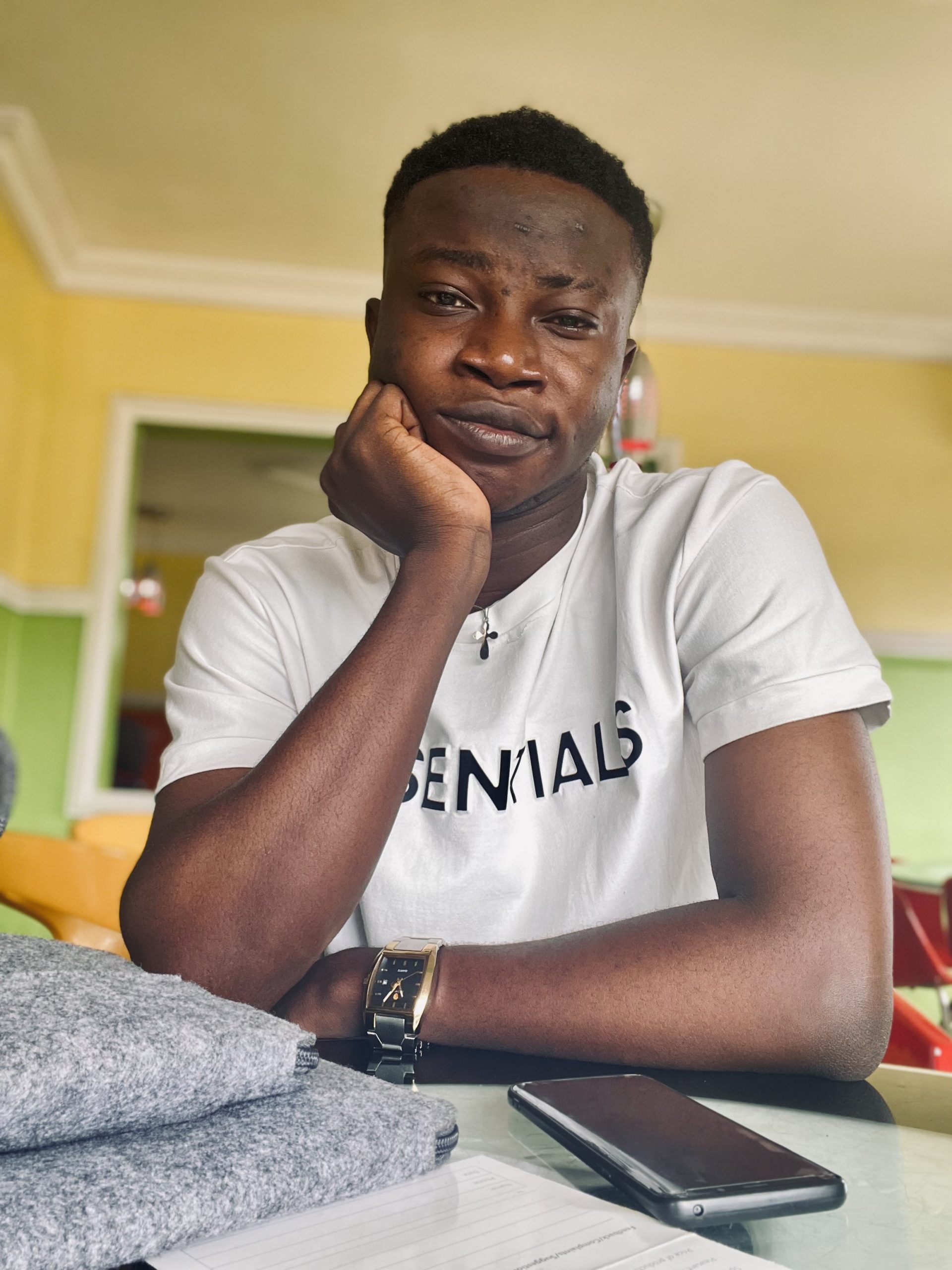 Edeh Samuel Chukwuemeka ACMC, is a Law Student and a Certified Mediator/Conciliator in Nigeria. He is also a Developer with knowledge in HTML, CSS, JS, PHP and React Native. Samuel is bent on changing the legal profession by building Web and Mobile Apps that will make legal research a lot easier.