Most Consumed Foods in India: India is a land of diverse cultures and cuisines, each region with its unique flavors and ingredients. The country is famous for its delicious food, which is a mix of spices, herbs, and vegetables. Nothing better than letting yourself be transported by the aromas and flavors of Indian cuisine.
Traveling is also eating, so we leave you with the 14 best dishes of Indian cuisine. The gastronomy of a country is the perfect way, not only to enjoy a good meal, but also to learn about the culture and customs of the place you are traveling to. If you have come this far, you are probably planning your trip to this fascinating country. So the first thing you have to know is that there are 14 dishes that you should not miss to try the best of this rich gastronomy.
How is Indian cuisine? But first of all, we want to explain to you what Indian cuisine is like and what type of food you are going to try in this country. In India, the flavor of the spices and condiments, which are always perfectly combined to enhance the delectable taste of the dishes, is the first thing that draws attention. Some of the most characteristic Indian flavors are that of cayenne, cloves, ginger, cardamom or saffron. The well-known garam masala or curries are made by combining these and other spices.
After all, they are the ideal combination of various seasonings. Stews and legumes of all kinds are common in Indian cuisine. Rice and vegetables are also commonly used, and they are always served with curries or masalas. A truly exotic flavor that is sometimes served with chai (tea), one of the most popular drinks in the country that is also served with aromatic herbs and spices. Ready for a trip to India? Also ready your mouth and not just your purse.
Recommended: Countries With The Highest Job Opportunities
Most Consumed/Popular Foods in India Currently
Here are the top ten most consumed foods in India:
1. Samosa: Samosa, Indian dish Samosas are a typical empanada from India but also from other nearby countries such as Pakistan or Tibet. It is a dish that can also be found in Indian kebabs or restaurants all over Europe. There is a potato filling and vegetables inside the samosa. The fried outer dough has a very crunchy texture and is served. It is a vegetarian snack, like many dishes in the country.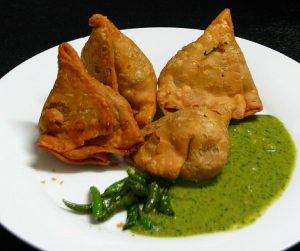 2. Masala: The masala dosa is a kind of crêpe or galette rolled with potatoes, onion, curry, turmeric, coriander, rice and lentils. It is a forceful dish, since these and many more ingredients are hidden inside this crêpe accompanied by a coconut chutney. This dish is vegetarian cuisine and also has a spicy point. Normally it is served in two different sizes. It is a dish that is eaten with the hands and that you can find both in street stalls and in restaurants.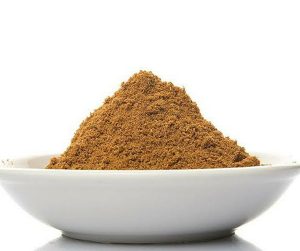 Also see: Best Hospitals in the World
3. Chole Bhature: When you are in Delhi, the capital of India, chole batura is a must. Served with chole, a spicy chickpea paste and spices, it is a puffy fried bread. This combination is designed so that you dip the bread in the chole and enjoy a pleasant contrast between the softer flavor of the bread with the spiciness of the sauce.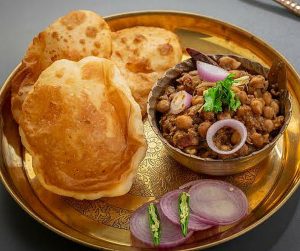 This dish originates from Punjab and is usually eaten as a fast food or for breakfast. If you eat it for breakfast, you will see that it is often accompanied by lassi, a drink made from coconut, water, spices, yogurt and sometimes fruit.
4. Bhelpuri: Bhelpuri is typical Indian dish. This snack is made with a base of chickpea flour noodles, puffed rice and tamarind sauce. Sometimes it is served in the shape of a cone with a teaspoon and can be eaten while visiting the city. It is common to see it in Mumbai, especially in the beach area, where people come to take this tasty snack.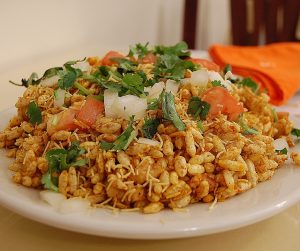 Also see: Most Beautiful Birds In the World
 5. Kati roll: If you want to try an authentic kebab, you will surely love the kati rolls: a rolled paratha bread dough with lamb and vegetables inside. Kati rolls frequently contain chicken meat as well. It is taken accompanied by some refreshing sauce, lime or lemon or chaat masala, a mixture of spices that contains mango powder.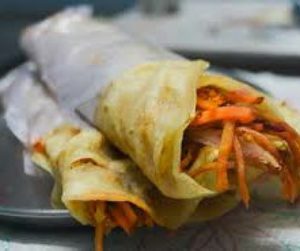 6. Daulat ki chaat: Daulat ki chaat is a kind of soufflé – as the Indian food critic Pushpesh Pant calls it – made with milk, cream, sugar, pistachios and spices such as saffron. It is especially common in the city of Delhi, especially when the temperatures are pleasant, since the heat undoes it.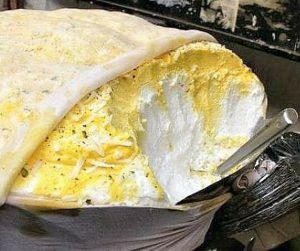 Recommended: Most Beautiful Cars In The World
7. Kashmiri Aloo Dum: Kashmiri Aloo Dum is a potato-based vegetarian dish. It is a recipe that is part of the traditional gastronomic culture of the Kashmir region, in the state of Jammu and Kashmir, in the north of the country. However, this dish can be enjoyed in a variety of ways across the nation. To prepare the Kashmiri Aloo Dum, what they do is first fry the potatoes in oil and then slowly cook them in a characteristic spicy sauce that gives the dish the finishing touch.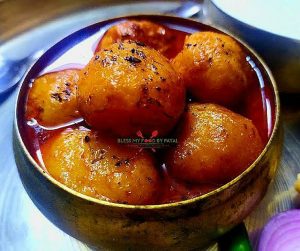 8. Tandoori Chicken: Tandoori chicken is a staple dish in Southeast Asian cuisine. It consists of a roasted chicken in the oven with spices. In fact, tandoor means a clay oven and it is cooked with firewood and charcoal. The mixture of spices with which the chicken is cooked is called tandoori masala.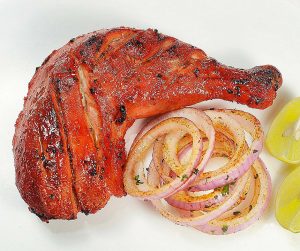 This mixture can consist of coriander, cumin, garlic, cinnamon, cardamom, cayenne, pepper, ginger, cloves, and bay leaves, among others; but you must bear in mind that the proportions and number of species of the tandoori masala will vary depending on the region of India in which you are.
Also see: Best Universities in Africa
9. Chicken Tikka Masala: Chicken tikka masala has reached the West and is now an international Indian recipe. Despite this, nothing beats an authentic chicken tikka masala. This dish consists of chicken tikka – that is, chicken marinated with yogurt and spices cooked in the oven – and masala sauce. Masala literally means "mixture of spices", so the dish has a very aromatic taste. Also, it is cooked with coconut milk and tomato sauce.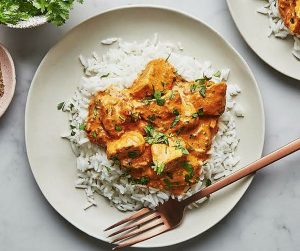 10. Rice: Rice is a staple food in India and is consumed in almost every household. It is cooked in various forms and is a part of every meal. From biryanis to pulaos, rice dishes are loved by people of all ages.
11. Chapati: Chapati is an unleavened flatbread made of whole wheat flour. It is a staple food in North India and is often served with curries, vegetables, and lentils.
Recommended: Highest paid actor in the world
12. Daal: Daal, also known as lentils, is a staple food in India and is consumed in various forms. From yellow daal to red daal, it is a staple food that is consumed with rice or chapati.
13. Biryani: Biryani is a flavorful and aromatic dish made of rice and meat or vegetables. It is a popular dish in India and is often served at special occasions and celebrations.
14. Aloo Tikki: Aloo Tikki is a popular snack in India, made of boiled potatoes and spices. It is often served with chutney and is a staple street food in the country.
15. Chole Bhature: Chole Bhature is a popular dish in North India, made of chickpeas cooked in spices and served with fried bread. It is a staple food in the region and is often consumed for breakfast or lunch.
Recommended: Differences Between Magic and Miracle
16. Paneer Tikka: Paneer Tikka is a popular dish in India, made of marinated cottage cheese that is grilled or baked. It is a staple food in North India and is often served with mint chutney.
17. Idli: Idli is a popular South Indian dish made of fermented rice and lentil batter. It is often served with coconut chutney, sambar, or tomato and onion chutney.
18. Masoor Daal: Masoor Daal is a popular dish in India and is made from red lentils that are cooked with spices.
19. Vada: Vada is a popular snack in South India, made of lentil flour and spices. It is often served with coconut chutney and is a staple street food in the region.
Recommended: Differences Between Entrepreneur And Businessman
In conclusion, India is a land of diverse and delicious cuisine, and the above-mentioned foods are just a few examples of the country's rich food culture. Each of these foods is loved for its unique flavor, texture, and taste and is a staple in households across the country.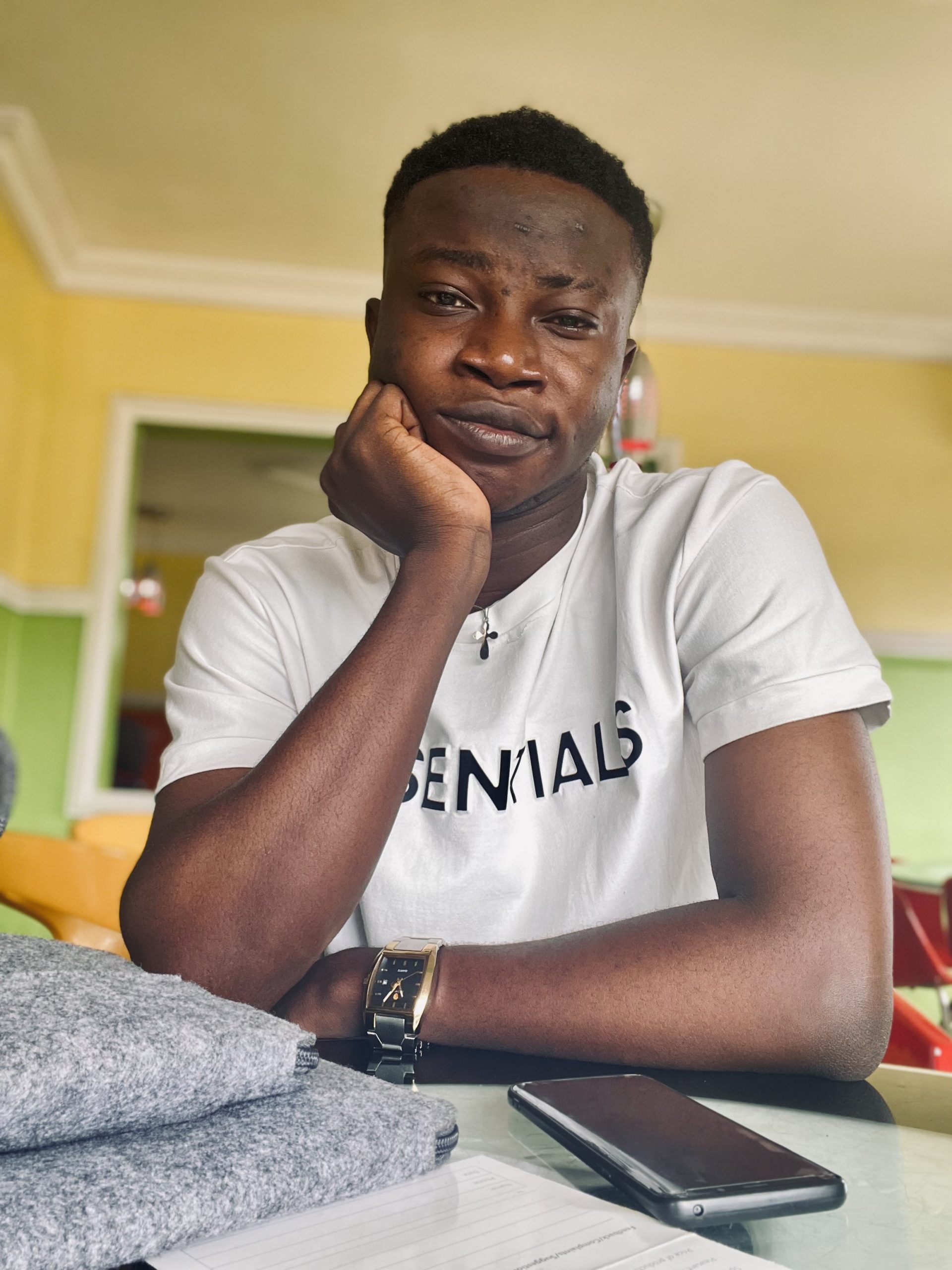 Edeh Samuel Chukwuemeka ACMC, is a Law Student and a Certified Mediator/Conciliator in Nigeria. He is also a Developer with knowledge in HTML, CSS, JS, PHP and React Native. Samuel is bent on changing the legal profession by building Web and Mobile Apps that will make legal research a lot easier.