UNIBEN Departmental Cutoff Marks For 2023/2024: Information reaching me now shows that the University Of Benin (UNIBEN) has release her departmental cutoff marks for 2020/2021 academic session. Notice on the just released UNIBEN departmental cutoff marks was made to the general public via the university's official website (www.uniben.edu). In light of this, students who applied for admission in UNIBEN this year are strongly advised to go through the cutoff mark given below.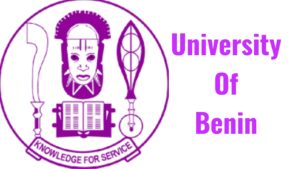 For those who do not know what UNIBEN departmental cutoff mark is all about; UNIBEN cutoff marks are the official marks or scores published by the management of UNIBEN for admitting students into the various faculties in the institution. Thus, if you are not able to meet up to the mark given by the school for the year, it is most likely that you will not be admitted.
For more information on the different between University Cutoff Marks and JAMB General cutoff mark for universities, kindly watch the video below. Trust me; you will love it.
Also Read: How to become an intelligent student at school
Is UNIBEN Cutoff Mark for 2023/2024 Out?
Yes! The University of Benin (Also known as UNIBEN) has yet released her cutoff marks for 2023/2024 academic session. Note that the cutoff marks below are not officially from the university of Benin because the school does not have a specific cutoff mark for now. The cutoff marks below was compiled by us to give you a clear view of what is expected from every faculty or department in the institution.
JAMB Cutoff Mark for UNIBEN 2023/2024
Following the recently held JAMB policy meeting with all the tertiary institutions in Nigeria, the Joint Admission and Matriculation Board (JAMB) has stated that the official cutoff mark for all the universities in Nigeria is 180. This is the generally accepted cutoff mark for admission into all the private, federal and state government owned universities. Consequently, before candidates seeking admission into the university this year can gain admission, they must have scored, at least, 180 in the just concluded 2023 JAMB examination.
Below is a Twitter confirmation of the above:
The Joint Admissions & Matriculations Board has announced 160 & above as the national minimum cut-off mark for 2020 admissions into public universities,120 and above as approved cut-off marks into Polytechnics and 100 & above for both Colleges of Education & Innovation Enterprise pic.twitter.com/xPmLZ6JM00

— NTA News (@NTANewsNow) June 17, 2020
In light of the above, UNIBEN JAMB cutoff mark for 2023 is 180. This is the official requirement to qualify for UNIBEN post UTME examination and admission through JAMB CAPS for 2023. Therefore, anyone who does not score 180 or above in JAMB 2023/2024 examination, may not be able to gain admission into UNIBEN this session.
General UNIBEN Cutoff Marks For 2023/2024 Academic Session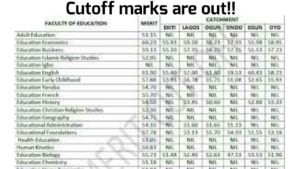 FACULTY OF LIFE SCIENCES/PHYSICAL SCIENCE
Animal and environmental biology – 50
Geology – 55
Microbiology – 60
Chemistry – 55             
Biochemistry – 50
Botany – 50
Mathematics – 50
Physics – 50
Science laboratory technology – 55
Industrial chemistry – 55
FACULTY OF AGRICULTURE
Agric Economics – 55
Agric Extension – 55
Animal science – 50
Fisheries – 50
Crop science – 50
Forestry and wild life – 50
Soil science – 50
FACULTY OF ART
English and Lit. Studies – 60
Theatre Art – 50
Linguistics – 50
Mass communication – 60
Religious studies – 50
Fine and Applied Arts – 55
French – 50
Philosophy – 50
History and inter. Studies – 50
COLLEGE OF MEDICAL SCIENCES
Anatomy – 60
Medical Biochemistry – 60
Medicine and Surgery – 70
Nursing – 60
Pharmacology – 60
Physiology – 60
EDUCATION
Library and information science – 50
ESAM – 50
Economics education – 50
Business education – 50
Computer education – 50
English education – 50
Political science education – 5o
Social science education (social studies) – 50
FACULTY OF LAW
FACULTY OF MANAGEMENT SCIENCES
Accountancy – Business administration 55
Banking and finance – 55
Insurance – 50
PHARMACY
FACULTY OF SOCIAL SCIENCES
Business administration – 55
Economics – 55
Geography and regional planning – 50
Political science – 55
Sociology – 50
Social works – 50
How To Calculate UNIBEN Aggregate Score
To calculate UNIBEN aggregate score, it is worthwhile to note that both your JAMB and post UTME must be considered. Consequently, UNIBEN aggregate is the average of your score in JAMB UTME examination and Post UTME examination/screening.
Below is the formula for calculating UNIBEN aggregate:
Jamb score/8 + Post UTME score/2
Now, let's take for instance, if Edeh Samuel Chukwuemeka scored 300 in the just concluded JAMB UTME examination and 80 in his Post UTME Examination, below is how to calculate his UNIBEN aggregate.
Step 1: For JAMB, 300/8 = 37.5%
Step 2: For Post UTME, 80/2 = 40%
Step 3: Finally, his aggregate will be 40% + 37.5% = 77.5%
From the above calculations, the aggrgate of Edeh Samuel Chukwuemeka is 77.5.
If your aggregate is up to the cutoff mark for your course provided above, then you will definitely be offered admission to study your dream course. But it is essential to know that UNIBEN also has other admission requirements for UTME and Direct Entry candidates in 2023. Check here to see UNIBEN UTME/Direct Entry Admission Requirements
Can I change my course to another course?
Absolutely yes! If your cutoff mark is far below the requirement for your dream course and you wish to change to another course, UNIBEN allows you to change your course to another course.
To apply for the University of Benin's change of course form, I highly recommend you visit the school's website frequently as all information concerning it will be post any moment from the day when their departmental cutoff marks were released.
Recommended: Cheapest universities to attend in Canada 2021
What to do if your cutoff mark is lower than required
Well, if your cutoff mark is lower than the cutoff mark for your course, I encourage you to, first and foremost, keep calm. If your score is slightly different from the one mentioned above, then chances are that you will be admitted through the university's supplementary admission list.
On the other hand, if you cutoff mark is far below the required cutoff mark, there are two options available to you. One is to change your course to another one. Alternatively, you can check out my articles on what to do with low jamb score for more information.
UNIBEN Admission Requirements For 2023 (General Requirements)
It is important to know that UNIIBEN will not only consider departmental marks when offering admission to aspirants. Aside the cutoff marks given above, candidates must meet the requirements highlighted below:
Candidates must score at lease 5 (five) credits in their O'level result before they will be offered admission. O'level result here may be WAEC, NECO, GCE or NABTEB result.
Candidates must make UNIBEN their first choice of institution to be offered admission.
Candidates must also take part in UNIBEN post UTME screening and must do excellently well in the examination to be offered admission.
Recommended: Advantages And Disadvantages of E-marketing (Online/Digital Marketing)
Facts About Uniben You Probably Don't Know
1. The university of Benin is one of the excellent universities in Nigeria, so it's miles very competitive, Even after passing jamb, You don't need to overlook publish UTME. Some students take post UTME with no consideration after passing jamb due to the fact they experience they have already made it. So the first step is to keep studying relentlessly.
2. The term among jamb and submit UTME are very quick, so that you could ought to read like by no means earlier than. Studying at night time isn't bad in any respect, The brain is like an elastic fabric, It stretches to each length you stretch it to. One mystery people do not know is that your jamb rating is split by eight and your publish UTME by 2, this is how they generates your normal score, recognize this and realize peace.
3. Say no to exam malpractice. A few human beings might also attempt to cajole you into questioning you're no longer organized and start trying to persuade you to take part in the bad act. Push those human beings away and accept as true with in your self. Just read and do not overlook any difficulty.
Must read: List of schools in Nigeria that accept second choice candidates for admission
In conclusion, now that you know the cutoff mark for your course of study in UNIBEN, it is wise you study hard to meet this score. Remember that UNIBEN is a federal school are the university is very competitive. What that actually means is that; you must do exceptionally well for you to gain admission into the school.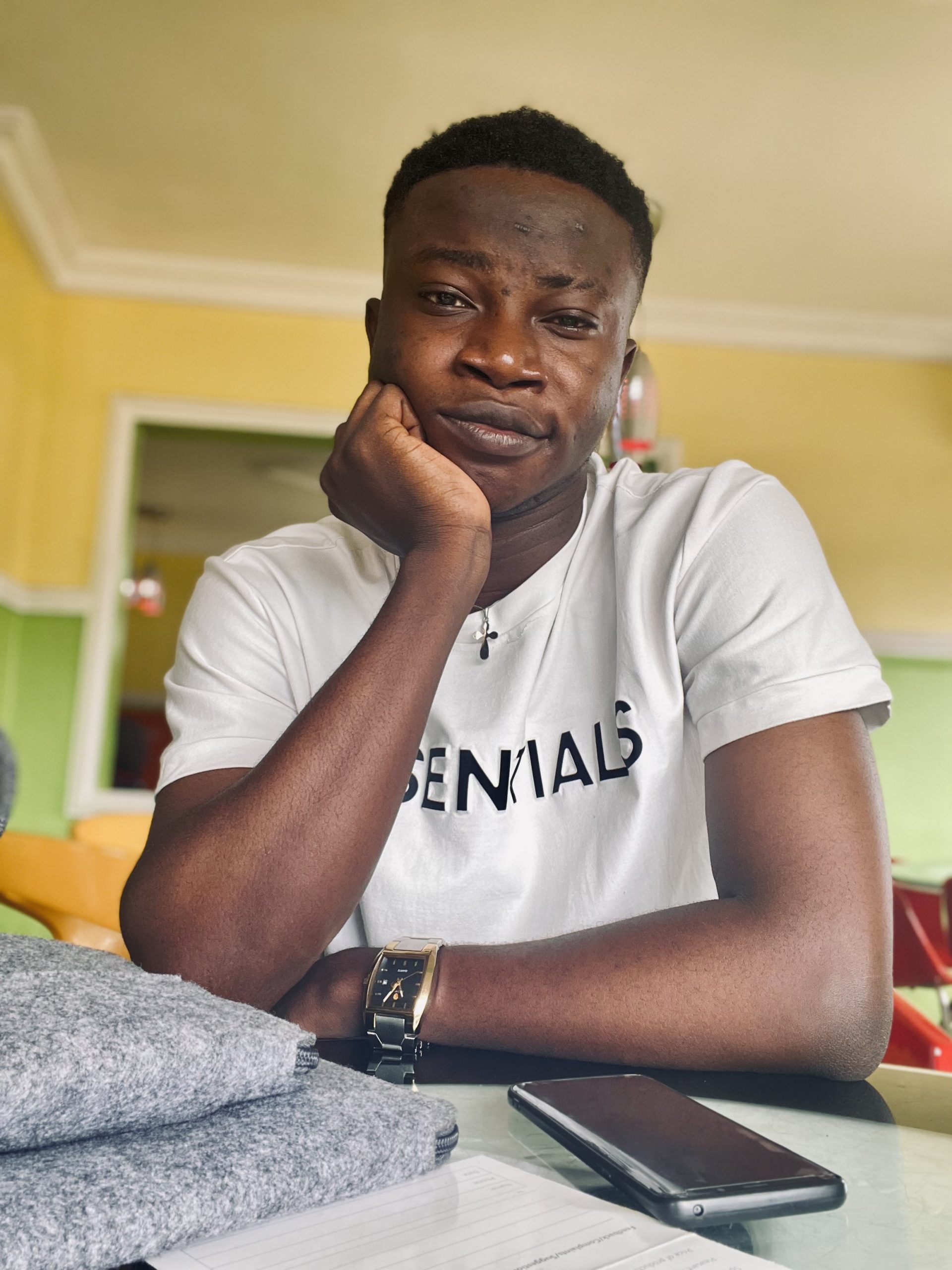 Edeh Samuel Chukwuemeka ACMC, is a Law Student and a Certified Mediator/Conciliator in Nigeria. He is also a Developer with knowledge in HTML, CSS, JS, PHP and React Native. Samuel is bent on changing the legal profession by building Web and Mobile Apps that will make legal research a lot easier.