If you have been asking the question "How much is OAU school fees?" This is the right post for you. Today, i will disclose the official school fee for all the courses in Obafemi Awolowo University (OAU). In addition to that, I will show you how to pay OAU school fees directly to the management of the university.
Accordingly, this post will guide fresh students on how they can pay their acceptance fee without any problem. Acceptance fee is a very essential payment every newly admitted student must make. Though, it has no stipulated deedline for payment in most universities. it is always advisable to pay your acceptance fee on time, as failure to do that within a reasonable time will nullify the admission with was offered in the first place.
On this note, I enjoin you to pay good attention to every information passed in this work. OAU is one of the best and most competitive universities in Nigeria currently. It is very important that you know the university very well before you apply for admission. The university's school fee is one of the things you are supposed to know and that is why i am sharing it here for both old and new students of the University.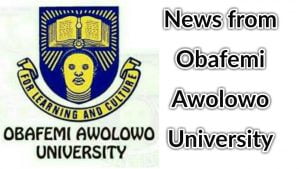 Also read:
About Obafemi Awolowo University (OAU)
Obafemi Awolowo University (OAU) is a federal research university in Ile-Ife, Osun State, Nigeria. It is named after the late Chief Obafemi Awolowo, one of Nigeria's most well-known nationalist leaders and the first Premier of the Western Region.
The University of Ife, which was founded on March 11th, 1961, eventually changed its name to Obafemi Awolowo University in 1987. One of Nigeria's oldest and most prominent universities, OAU has continuously been rated as one of the best in Africa and among the continent's top universities. We'll talk about some intriguing facts regarding Obafemi Awolowo University in this blog post.
Recommended: Best Countries To Migrate/Relocate To From Nigeria
Is OAU school fee for 2023/2024 out?
Yes! The Obafemi Awolowo University has finally released her 2023/2024 school fees for all faculties and departments in the school. This information was brought to us from a reliable source in the university. The university made a public notice on her 2023/2024 school fees and it is clearly shown in the image below.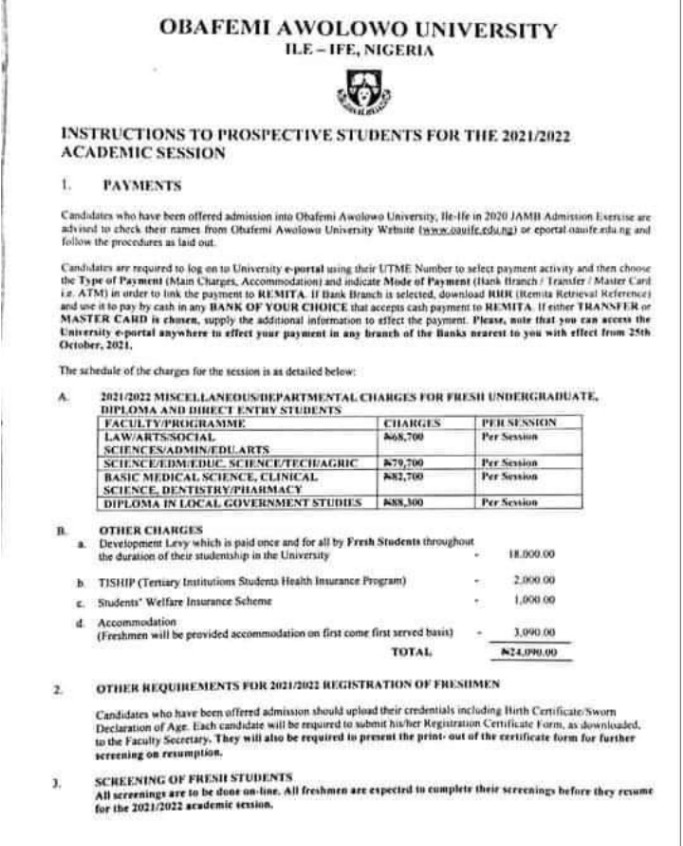 Old and new students of the Obafemi Awolowo University (OAU) are encouraged to proceed to pay their fees as soon as possible to avoid any problem with this academic session. To pay your fees, kindly follow the procedure enumerated in this article for details.
Important Notice
Note that Obafemi Awolowo University (OAU) has also stopped the usually payment of acceptance fee by students. Thus, new students who gain admission into the school this year are encouraged to only pay their school fees and proved to do clearance. This is indeed a relief for many students this year!
OAU School Fees for New and Old students for 2023/2024 Session
Below is the amount paid by both old and new students of the Obafemi Awolowo University (OAU) in 2023 :
School fee for the Department of Law/Arts/Social Science/Edu – N68,700 per session
School fee for the Department of Science/EDM/Edu.SCIENCE/TECH/AGRICULTURE – N70,000 per session
School fee for the Department of Basic Medical school/Clinical Science/Dentistry/Pharmacy – N82,700 per session
School fee for the Department of Diploma in local government studies – N88,300 per session
OTHER CHARGES:
Development levy paid by first year students – N18,000
TISHIP – N2,000
Student welfare scheme – N1,000
Accommodation fee – N3,090 per session.
Total: N24,090
Candidates are to note that OAU accommodation is given on a first come first served basis. Thus, if you fail to apply on time, there is likelihood that you may not get an accommodation in the school. 
Most Read: Most populated universities in Nigeria 2023
How to Pay Your OAU 2023/2024 School Fees Online
Kindly follow the steps below to pay your OAU school fee online:
Login to your profile In OAU eportal with your Matric/UTME Number using the link below: https://eportal.oauife.edu.ng/login.php
Select payment activity and choose the Type of Payment (Acceptance, School fees, Accommodation) and
Now, you have to select the Mode of Payment you want to use. This could be by direct payment in any commercial bank in Nigeria (Bank Branch) or through your credit card.
If you wish to pay through the bank, simply print the hard copy of your RRR (Remita Retrieval Reference) and take it to any commercial bank of your choice to make the payment.
You are strongly advised keep every document you used for Bank payment safe as they will all be needed during your clearance.
On the other hand, if you wish to pay using your credit card, you have to provide your card details to make the payment online (Without going to a bank).
Also read: Cheapest universities in Ghana you should attend in 2020
How much is OAU acceptance fee?
OAU acceptance fee is N20,000 (Twenty thousand Naira only). This money must be paid by all the newly admitted students of Obafemi Awolowo University (OAU) to show that they have fully accepted the admission offered by the management of the university.
Note that failure to pay your acceptance fee may lead to the forfeiture of the admission entirely.
Also read: How to pass JAMB: 2023/2024 WAEC secrets
How to pay OAU acceptance fee online
Paying OAU acceptance fee is not very different from paying your school fee. In the case of acceptance fee, your PAYMENT ACTIVITY should be set to ACCEPTANCE FEE. Follow other steps I already stated in the procedure for paying school fee and that is all.
Don't forget to keep all your payment details safe as they will all be required when you come for your clearance in your faculty.
MUST READ:
Yeah! That is all you have to know about OAU school fee for 2023/2024 academic session. Do not forget to keep checking this web page subsequently for any updates on the school fees for all the courses in Obafemi Awolowo University (OAU) in 2023/2024 academic season. Meanwhile, if you had any problem while trying to pay your fees or you still have questions you would like to ask me, please do that using the comment section. I will be glad to give you a reply.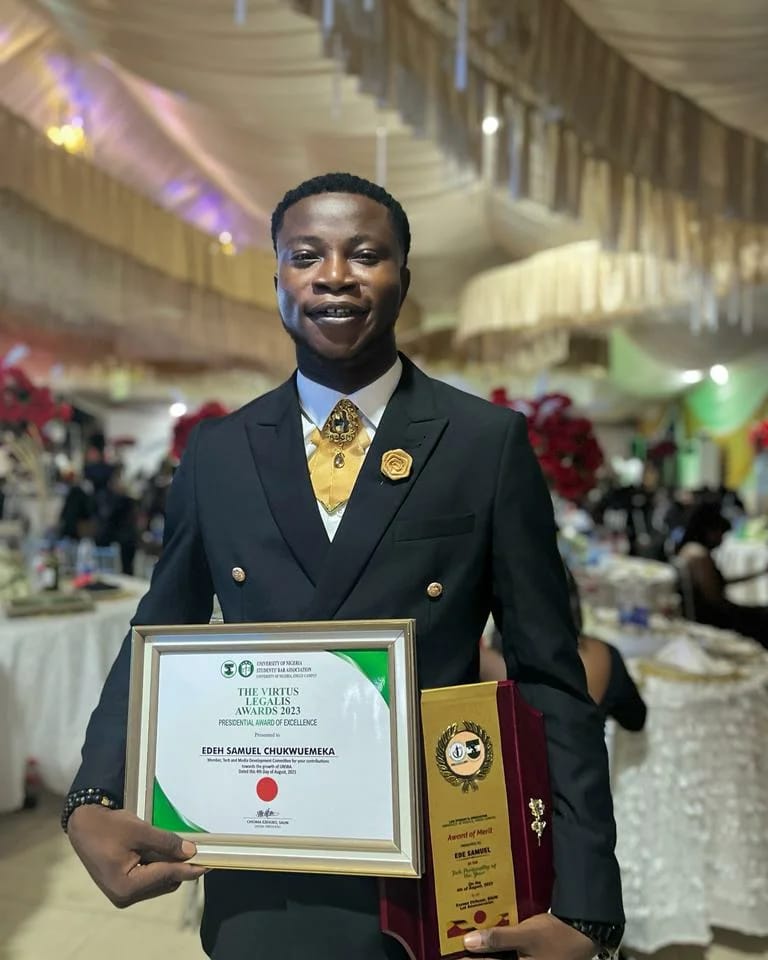 Edeh Samuel Chukwuemeka, ACMC, is a lawyer and a certified mediator/conciliator in Nigeria. He is also a developer with knowledge in various programming languages. Samuel is determined to leverage his skills in technology, SEO, and legal practice to revolutionize the legal profession worldwide by creating web and mobile applications that simplify legal research. Sam is also passionate about educating and providing valuable information to people.