To all the UNILAG aspirants who have been asking the question "when will UNILAG departmental cutoff marks be out?", this is to inform you that the University of Lagos (UNILAG) has release her departmental cutoff mark for 2019/2020 academic session. Notice on the just released UNILAG department cutoff mark was made by the registrar of the institution via the university's official website (www.unilag.edu.ng).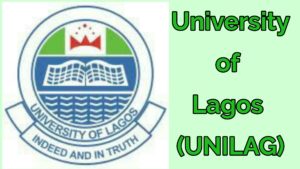 In light of this, If you wishe to gain admission into the University of Lagos (UNILAG) this year, quickly go through the cutoff marks below, find the cutoff mark stipulated for your desired course so that you will know your chances of getting admitted.
For those who do not know what UNILAG departmental cutoff mark is about; it is the minimum score fixed by the administrators of UNILAG for admitting students into her prestigious faculties. Thus, any candidate who does not meet up to the required cutoff mark may not be admitted into the University.
I enjoin you to watch the video below for a better understanding of the difference between JAMB cutoff mark and the Official UNILAG cutoff mark.
Must read:
Is UNILAG 2020/2021 departmental cutoff mark out?
No! The University Of Lagos (UNILAG) has not released her official 2020/2021 departmental cutoff mark yet. This is due to the current Corona virus pandemic that stopped the activities of the university.
Nonetheless, it is assured that the university will release her 2020 cutoff points immediately after the pandemic ends. Consequently, candidates that really want to gain admission into UNILAG are strongly advised to continue reading their books until the university becomes active again.
Must Read: Most populated universities for students in Nigeria 2019
What is UNILAG JAMB cutoff mark in 2020?
It should be noted that UNILAG JAMB cutoff mark for 2020/2021 is 180. This inversely means that, before any candidate will be allowed to take UNILAG Post UTME examination, he/she must score up to 180 in JAMB UTME examination. Nevertheless, it is still to the discretion of UNILAG to increase or reduce.
Also read:
UNILAG DEPARTMENTAL CUTOFF MARKS FOR 2019/2020 ACADEMIC SESSION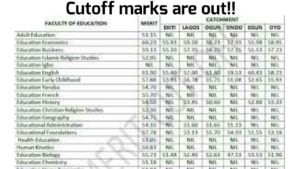 FACULTY OF ARTS
Creative Arts – 63.775
English – 64. 64
French – 61.9
Russian – 59.425
History and Strategic Studies – 64.375
Linguistics Igbo – 56.25
Linguistics Yoruba – 52.25
Philosophy – 62.725
CRK – 60.25
IRK – 59.625
FACULTY OF BUSINESS ADMINISTRATION
Accounting – 72.95
Actuarial Science – 66.75
Insurance – 64
Business Administration – 67.676
Finance – 67.875
Industrial Relations And Personnel Mgt – 64.975
COLLEGE OF MEDICINE
Medicine & Surgery – 81.373
Physiotherapy – 73.45
Radiography – 72.75
Medical & Laboratory Science – 72.325
Pharmacology – 71.2
Physiology – 69.525
Dentistry – 74. 05
FACULTY OF LAW
FACULTY OF ENGINEERING
Chemical & Petroleum Engineering – 73.575
Civil & Environmental Engineering – 72.025
Computer Engineering – 76.65
Electrical & Electronics Engineering – 77.425
Mechanical Engineering – 78.65
Metallurgical & Material Engineering – 70.6
Petroleum & Gas Engineering – 72.75
Surveying & Geo. Engineering – 67.3
System Engineering – 77.45
FACULTY OF EDUCATION
Adult Education – 58.2
Education Economics – 64. 5
Education Business – 62.9
Education Islamic Religion Studies – 60.075
Education Igbo – NIL
Education English – 64.3
Education Early Childhood – 62.375
Education Yoruba – 52.225
Education French – 55.75
Education History – 58.975
Education Christian Religion Studies – 59.7
Education Geography – 55.825
Educational Administration – 60.825
Educational Foundations – 60.775
Health Education – 55.475
Human Kinetics – 56.375
Education Biology – 58.6
Education Chemistry – 56.3
Education Home Economics – 54.577
Education Integrated Science – 48.95
Education Mathematics – 57.05
Education Physics – 54.25
Education Technology – 57.45
FACULTY OF SCIENCE
Biochemistry – 69. 575
Botany – 60.725
Cell Biology & Genetics – 65.6
Chemistry – 65.5
Computer Science – 74.625
Geology – 66.875
Geophysics – 67.6
Marine Biology – 62.625
Fisheries – 57.675
Mathematics – 66.85
Microbiology – 66.85
Physics – 63.1
Zoology – 60.025
FACULTY OF SOCIAL SCIENCES
Economics – 71.55
Geography – 59.975
Mass Communication – 69.65
Political Science – 66.125
Psychology – 66.975
Social Work – 63.35
Sociology – 65.2
FACULTY OF PHARMACY
FACULTY OF ENVIRONMENTAL SCIENCES
Architecture – 74.7
Building – 65.525
Estate Management – 65
Quantity Surveying – 65.6
Urban & Regional Planning – 58
UNILAG Cutoff Marks in PDF
If you wish to get the full document where the above cutoff marks are contained, kindly click the text below. This document contains the cutoff marks of some particular states (ELDs)
To view the this document, follow the steps below:
Download the departmental cutoff marks by clicking on the link above.
Open the file in a PFD reader app or WPS
Search for your course in the document and you will be able to view the cutoff mark for your desired course.
Note: You can only open the above document in a computer or a smart phone. 
How to Calculate UNILAG Aggregate Score
To calculate your UNILAG aggregate score, it is important to note that both your JAMB score, Post UTME and O'level grades must be considered. Kindly follow the steps below to calculate your UNILAG aggregate:
Step 1: Calculate your O'level subjects using the grading system below:
A1 = 4.0
B2 = 3.6
B3 = 3.2
C4 = 2.8
C5 = 2.4
C6 = 2.0
This calculation must be done only on your five important subjects (English and Mathematics inclusive).
Step 2: Divide your JAMB score by 8 and keep the result aside.
Step 3: Now, add the results of the calculations above (O'level grade and JAMB score) plus your UNILAG post UTME screening score.
Whenever you get after this step three above is you finally UNILAG aggregate.
Also read: How to prepare and pass UNILAG post UTME screening excellently.
UNILAG 2020/2020 Admission Requirements For All Courses
It is imperative to note that UNICAL will not only consider this cutoff mark when offering admission this year. To gain admission into any department in UNILAG, aspirants must meet all the admission requirements of UNILAG. Below are the requirements for admission in UNILAG this 2020:
Candidates must have at least 5(five) credits (English and mathematics inclusive) in their O'level result. Note that O'level result can be you WAEC, NECO, GCE or NABTEB examination result.
Candidates must have attained the age of 16 at the time the admission was offered.
More so, candidates who wish to gain admission into UNILAG must take part in the university's post UTME screening. Candidates must also pass very well in the examination.
UTME candidates must score at least 180 before they can be allowed to take UNILAG's Post UTME screening.
CHECK HERE for more information on UNILAG admission requirements for 2020.
Okay! Above are the courses in the University of Lagos (UNILAG) and their cutoff marks for 2019/2020 academic session. Don't forget to always check back this page or subscribe to the newsletter below for updates on UNILAG Cutoff Marks 2020/2021 session.
Meanwhile, if you have any question concerning UNILAG admission, don't hesitate to direct it to me using the comment section below. I will be glad to put you through.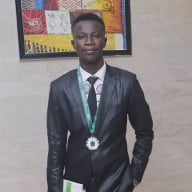 Edeh Samuel Chukwuemeka ChMC, is a Law Student and a Certified Mediator/Conciliator in Nigeria. He is also a Developer with knowledge in HTML, CSS, JS, PHP and React Native. Samuel is bent on changing the legal profession by building Web and Mobile Apps that will make legal research a lot easier.