Top 13 Most Powerful and Strongest Animals In The World: The world operates on a chain of production and consumption. You either eat or you'd virtually be eaten. This is why there is a constant tussle for the different placements that exist. The strength here is not limited to the size of the body or the weight of the creature. It sometimes refers to several characteristics that include feeding patterns, the ability to endure pain, and muscle development. A clear example would be that while a growing rooster can be bigger and heavier than a young rattlesnake, the latter is strong enough to kill the former.
Although the animals on our list are mostly land animals, it is not to the exclusion of some very powerful sea creatures.
Recommended: Most Fearless Animals in the world 2022
Top 13 Most Powerful and Strongest Animals in Land and Ocean
1. Whales: Whales can contend the record of the strongest animal on earth solely due to their massive size. In their case, while they may not be able to move things or strike their prey with fists, they need a lot of strength to propel their bodies through the water. The latter is made possible by two muscles around the tail that provide this sea creature with enough propelling force.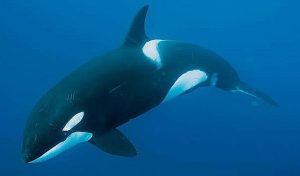 2. Elephants: Elephants are the most enormous creatures on land, and while this does not always translate to vicious traits, it suggests build and hefty muscles. The most interesting fact about the elephant's frame is that it is particularly modified for strength.
Take, for instance, bone cavities in other mammals are usually small. In elephants, these cavities are high and make room for stunning moves like standing on its posterior. As a result of this remarkable characteristic, they can lift the heaviest things.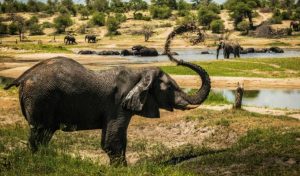 Another quite interesting part of the elephant's frame is the trunk. The trunk is strong enough to lift things that weigh up to 900 pounds. This is because the trunk contains very little blood or bone, and is made up of several muscles that clench when lifting one thing or another.
Also see: Advantages and Disadvantages of Being a Lawyer
3. Gorillas: Gorillas are not very aggressive. They are herbivorous and non-threatening. However, there is no mistake that because Gorillas are the most enormous primates in the world, it is hard not to find them frightening.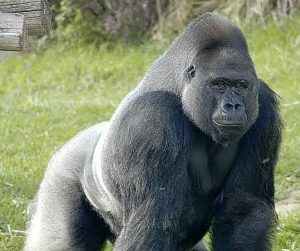 They have a huge build and very long arms that look very intimidating when they are swinging. Plus, they weigh anything between 200 – 500 pounds and can pack a punch, six times more impactful than virtually any animal on our list. They could very well be the strongest on this list.
4. Crocodiles: At number four on this list, we have the crocodile, one of the most powerful creatures to ever exist. It is also one of the most -if not the most- tactical predator in animal history. As one of the only creatures to successfully navigate water/land territories, it makes it very easy for them to launch an attack on their prey, whether they live in the water or lurking carelessly on river banks.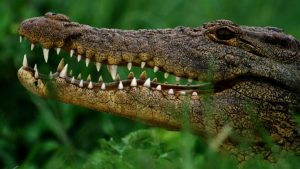 What the crocodile lacks in an enormous frame, it makes up for, in the most powerful jaw that can tear through the skin of any creature in the world, leading to their instant death. Also, because of the set of peculiar muscles in the crocodile's jaw, and the way the teeth are structured, their jaws snap at lights sped when they move in on prey, making for an easy catch.
Another fantastic detail in the croc's anatomy is the skin. The skin in the upper side of a crocodile's body is not only incredibly hard and difficult to penetrate, but it also has razor-like scales that can slice through the skin of its prey. Crocodiles are not only incredibly strong, but they are also bravely vicious.
Recommended: Countries with the weakest military 2022
5. Grizzly Bears: Bears generally are very popular across the world, especially in North America and South Asia. However, they are one of the strongest animals to walk this earth. With incredibly strong forelimbs and a body full of several muscles that enable impressive lifting, bears can engage any predator.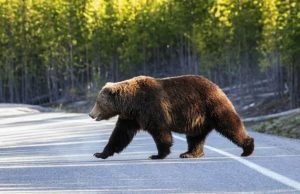 Among bears, however, is the grizzly bear; the most vicious of the pack. The grizzly bear had a strong jaw set and an unbelievable litter of teeth and can bite and clench into its victims. Also, grizzly bears have a high tolerance to pain. They can sustain injuries, and still walk for miles till they drop. This is why they are most unrelenting in combat.
6. Tigers: Tigers are one of the most ferocious animals in the world. They come under the categories of hunters (animals that show the most ability on a hunting expedition). The other strong features of a tiger include speed, sight, doggedness, etc.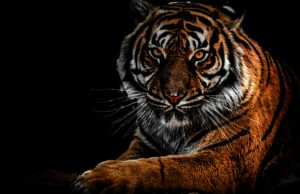 Also see: 8 Methods of reducing friction on a surface
7. The Rhinoceros Clan: This animal is one of the only herbivores on our list of strongest animals. While its body mass and muscular limbs suggest that this creature is not to be messed with, it is relatively aggressive when left alone. The exhibition of the Rhino's strength is in the face of disturbance when its self-defense modes are triggered. The three most interesting details about the rhino include;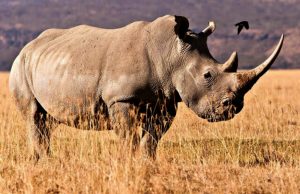 That they can make powerful charges of 30 – 40/mph. That the horn in the middle of the rhino's head is the second most terrifying thing about the Rhino. It is right next to its intimidating mass. When Rhinos are spooked, they may as much as tear down yards and walls.
8. Hippopotamus: The Hippo is another animal that can face most predators but does not look the part, especially when they are calm and undisturbed. This animal can survive for a long period without fighting other 'peerhunters'.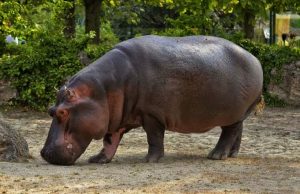 The problem would arise when something disrupts their peace. They attack with virtually every muscle in their bodies and imagine a creature that weighs 3,000 to 4,000 pounds.
Also see: Most dangerous breeds of dogs to buy
9. Bovines: Hundreds of years ago, Bovines were domesticated to provide aid to people in the carrying of their farming, and hunting tools. The reason for this was that the already domesticated animals could not carry very heavy loads. Bovines can essentially navigate their way through the roughest paths due to their powerful limbs.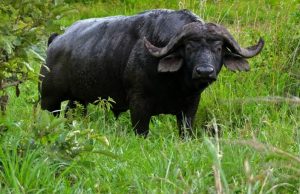 However, Also, they are infamous for their short temperature.
10. Musk Ox: The strength of this animal is so popular, that a simile was made for comparison. An ox can also carry items that are most times far heavier than its body mass. They also possess a high tolerance for pain and discomfort.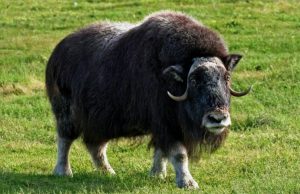 Also see: Differences Between Bush Fallowing And Shifting Cultivation
11. Lion: Lion is largest cat and is widely considered as the king of the jungle because of its raw strength, bravery, and ability to dominant its habitat protecting its own and being a top predator of other animals. Lion are usually at the top of food chain in the animal kingdom, as while it attacks and kills other animals, no animal hunts a mature lion. Hence, it is all powerful.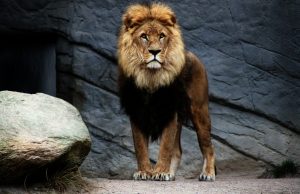 Lion boasts of power and strength. Lion has a weight of 330-550 ibs, length of about 10 feet, a teeth which is about 3-5 inches long, has a bite force of 650 PSI bite force, a striking speed of 50 mph, it also has powerful jaws which can easily crush bones, and a sharp canines which tears through the skin of other animals.
Also see: Differences Between Private And Public Trust
12. Jaguar: Jaguar is the third largest cat in the world after tiger and lion, and just like its contemporaries it is very strong. They weigh 200-300 pounds, can lift over 700 pounds, and have one of the strongest jaw muscles with an incredible bite force of 1,500 psi which makes it possible for them to attack their preys by surprise and kill them with just a single bite. They are therefore one of the strongest animals in the world, having an incredible ability to kill their preys with ease by just a bite powerful enough to pierce the hard skull of preys.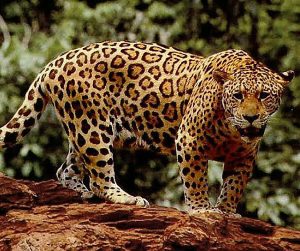 Jaguars often hunt at night and they kill over 87 different species of animals.
Recommended: Most Dangerous Snakes In The World (With Pictures): Top 10 Deadliest
13. Anaconda: Anaconda is the only natural enemy of a jaguar, and it is capable of killing a jaguar and vice versa. An anaconda particularly a green anaconda is extremely strong and is one of the largest animals in the world as it has a size of 30 feets, weight up to 200- 550 pounds, and diameter of 12 inches.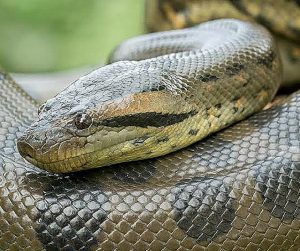 Asides being the largest snake in the world, green anacondas are one of the strongest animals in the world having a bite force of 900 psi and a constriction force of 90 pounds per square which makes it possible for it to cut off a prey's blood supply, squeeze an extremely large animal, and easily crush the prey to death.
Recommended: Countries with the most beautiful women in the world
In conclusion, animals are truly interesting to observe, in that a creature could show unexpected strength in light of danger or fear. Records show that the most likely category of creatures to exhibit such stretch in capacity are creatures with offspring.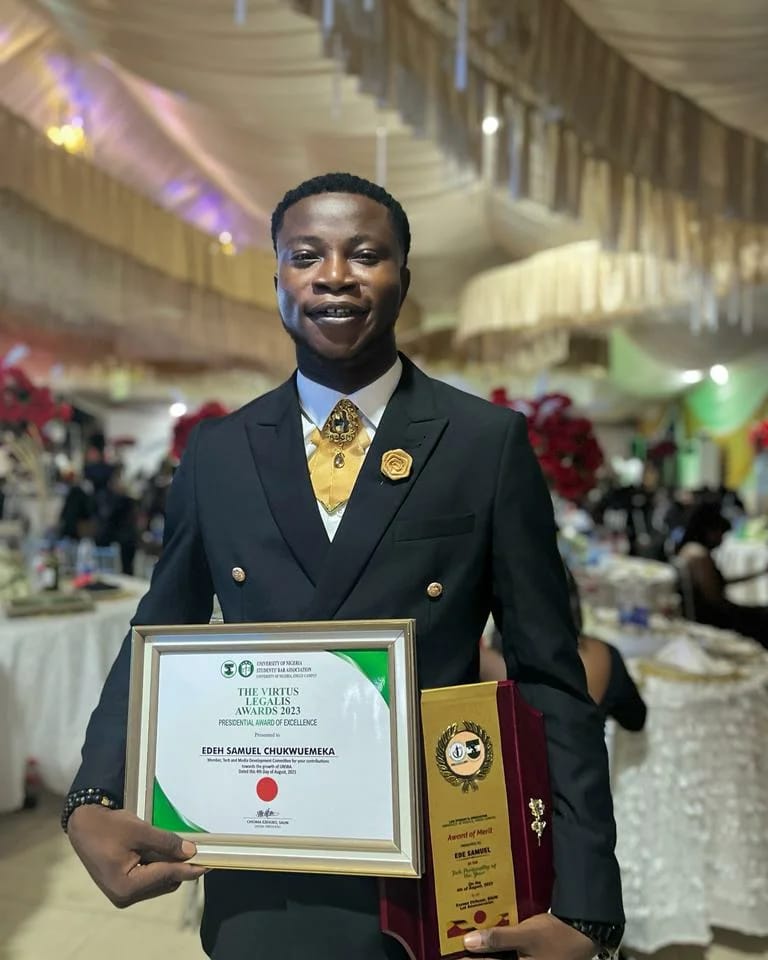 Edeh Samuel Chukwuemeka, ACMC, is a lawyer and a certified mediator/conciliator in Nigeria. He is also a developer with knowledge in various programming languages. Samuel is determined to leverage his skills in technology, SEO, and legal practice to revolutionize the legal profession worldwide by creating web and mobile applications that simplify legal research. Sam is also passionate about educating and providing valuable information to people.