Based on my research, the number of students that fail WAEC examination every increases to about 5% after each year. In my article on how to pass WAEC, I traced the increase in failure till 2019 and I found that about 80% of students usually fail WAEC examination every year. Now the question is, Why do students fail WAEC examination? I mean, WAEC is just like every other examination but there is always a high number of failures reported after each year's examination.
A lot of reason came to my mind at first but I couldn't conclude until after I did a survey on one of the top online forums in Nigeria. Based on my research, the second part of the infographics below show you the top three reasons for failure in WAEC examination.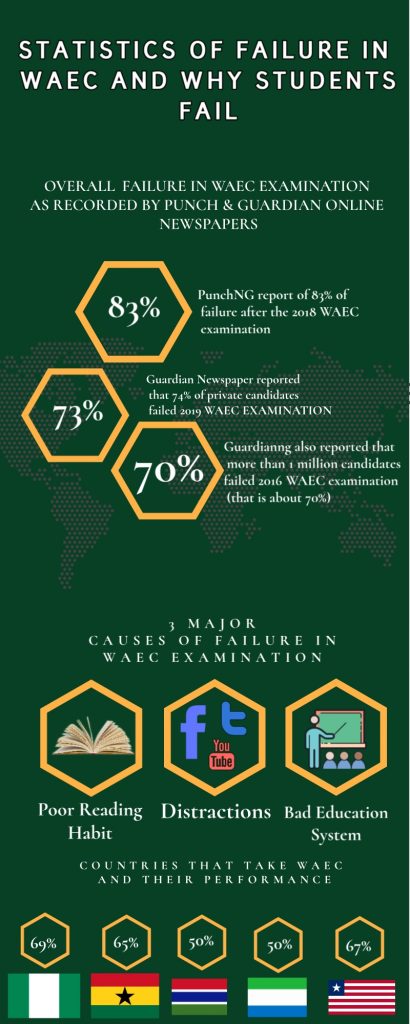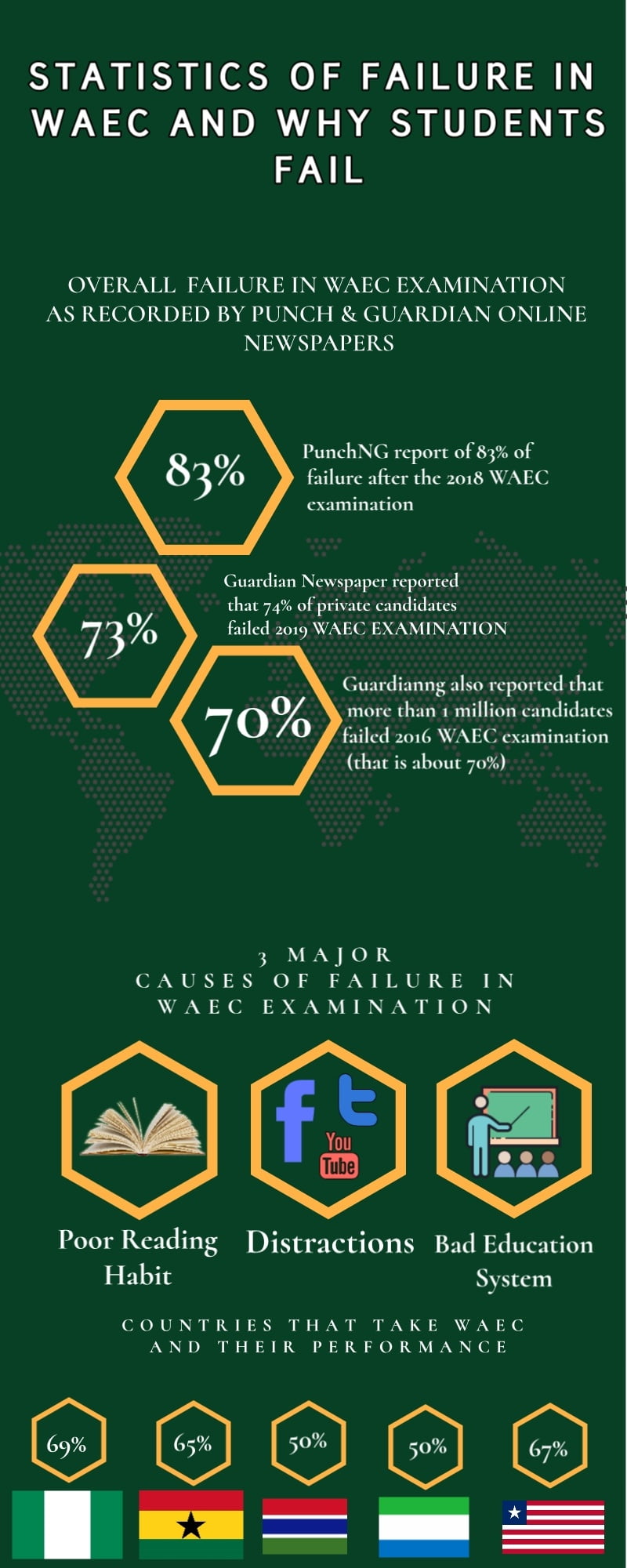 But aside from these three things, other things also contributes to the reasons why students fail WAEC examination. In this article, we will be looking at all the possible reasons why WAEC candidates fail the examination.
But before we continue, it is also pertinent to note that the reason why I am doing this is the educate and inform those who are yet to take the impending WAEC examination so they can prepare and also avoid the mistake which other students made. I strongly believe that this article will be of help to you all.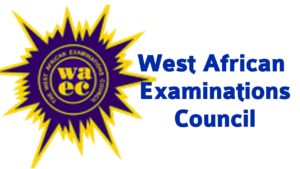 Also see: Is WAEC 2020 Examination difficult? Find out here
Reasons why students fail WAEC examination every year
Below are the reasons for massive failure in WAEC examination:
1. Poor reading Habit: No doubt, many students have totally forgotten that the only way to pass an examination is to read and prepare assiduously. In recent times, i found out that majority of students don't read before examinations like WAEC, JAMB and even NECO because they feel that the examination requires a lot, hence, the only option is to cheat during the exam.
Trust me, this has led many candidates to doom. Those who foolishly wrote without reading usually end up failing with more than 5 Fs, and those who were caught cheating were seriously punished by WAEC.
2. Poor education standards: In addition to the two major reasons for massive failure in WAEC which I have already discussed, the standard of Education in all the countries that take WAEC examination is nothing to write home about. Nigeria is even the worst because the Nigerian government does not care about the activities of schools taking primary, secondary and tertiary education in the country.
This has made the standard of learning to decrease over the years. Now a days, teachers now extort money from their students to feed their stomach. Most of the school libraries are empty and laboratories are left with nothing.
Also see: How to prepare for post UTME examination of any university in Nigeria
3. Social media: I am one of those who support the argument that the internet has done more bad to students than good. This is actually one of my reason for that.
Social media has tied many students in the level they are for years. The truth is the, most of them will never agree and it will keep killing them.
Now this what I found out after a little research; many students tend to spend more time than they plan on social media because it is interesting and fun. Most times, WAEC candidates allow it to encroach on the time they are supposed to read their books.
In summary, social media is one of the reasons for high number of failure in WAEC examination and any student who really want to pass the examination must avoid it.
4. Not getting the right materials: I have said it time and again that the materials one uses to prepare for WAEC, goes a long way to determine the failure or success of that person. Just as a farmer goes to the farm with his cutlass and hoe, every jamb candidate must prepare with the right WAEC materials. They include, WAEC syllabus, WAEC past questions and answers, notebook etc.
Students usually make the mistake of buying textbooks that were not recommended by WAEC before the examination. Doing this will not help you as a student but may not cause you to fall. However, due to the little difference in most textbooks, a candidate might end up answer a question wrongly.
Also see: How to correct name in WAEC result/certificate
5. Preparing with the mindset of examination malpractice: Due to the fact that many students don't don't read very well before their WAEC examination, they end up resorting to examination malpractice, which is another major cause of massive failure in WAEC examination.
Trust me, examination malpractice is an old fashioned thing. WAEC is now very wise that it is impossible for candidates to pass their examination through examination malpractice. Even if they successfully commit examination malpractice, they may not escape the punishment for it, and that is even worst.
When WAEC gets any slight case of examination malpractice in an exam center, the whole result of that center will not be released forever. This contributes to about 40% of the failure in WAEC examination every year.
6. Late preparation: Many students fail WAEC examination because of late preparation. Actually, there is no particular time to start preparing for WAEC exam, but I always advise students to start as early as possible. In other words, students should look at their schedule and ability to cover WAEC syllabus before deciding to start preparing for WAEC examination.
Apparently, WAEC is a big examination that takes about a month to finish. So, enough time is needed for preparation and that is what many students don't give to the examination.
Also see: How to pass JAMB examination with 300+
7. Lack of proper time management: Time is a very important factor in every examination. It has been reported that more that 15% of students who fail WAEC every year, is as a result of their inability to manage their time very well. Most times, the problem is not that students don't prepare, but the fact that they lacked enough time to answer and pass their examination.
If you are yet to take your WAEC examination, don't foeget to work on your time management skill. It is a very important skill that you need to pay attention to if you really want to pass WAEC examination.
8. Poor approach to WAEC questions: In my article on "How to answer WAEC questions perfectly", I comprehensively discussed the little things that can help a student to approach WAEC questions the right way. I highly recommend that you read that work.
WAEC is smart nowadays and most students have refused to be smart and that is why they fail. They don't know how to answer questions that requires them to "List", "Mention", "Describe" or to "Define".
9. Misinformation: During my research, I found that about 5% of students that take WAEC examination every year fail because of little misinformation they get from the internet and social media.
When I was taking my own examination in 2017, I remember a student who came 2 hours after the examination on the day of mathematics. She was crying and begging to see if she can still be allowed to take the exam, but there was nothing my schoolmaster could do. It was already too late.
After two weeks she told us that the reason why she missed the examination was because a website told her that the examination was supposed to start by 12pm instead of 10am.
I really felt for her because she had to repeat the examination the next year. So you see, many students fail because of wrong information they get. It is thus, one of the major causes of failure in WAEC examination.
Also see: Ways of acquiring citizenship in Nigeria
10. Lack of determination to pass the examination: To pass WAEC examination, determination is a must. It contributes to about 50% of success in the exam but many students don't really know about this. Today students care more about finding a way they can pay their way through instead of developing that necessary determination to pass the examination and this is why many fail the exam.
The lack of determination is one of the major reasons for failure in WAEC examination because it is very difficult to find students who are really determined to pass their examination once and for all. Conversely, it is one of the reasons why students fail WAEC examination.
Kindly check the video below for more reasons why students fail WAEC examination! 
Also see: How to collect original WAEC GCE results
So far, i have discussed some of the major reasons why students fail WAEC examination. These things keep happening almost every year and that is why i decided to share them today. Now you know them, i expect you to tackle them and work more on yourself so that you won't make the same mistake other students made.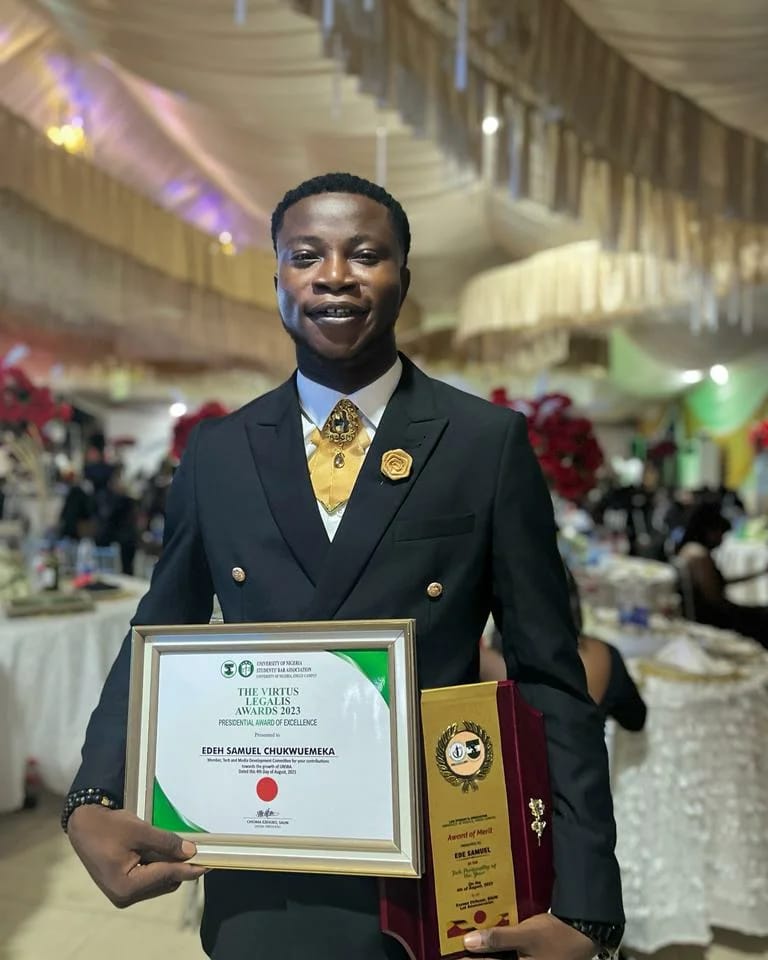 Edeh Samuel Chukwuemeka, ACMC, is a lawyer and a certified mediator/conciliator in Nigeria. He is also a developer with knowledge in various programming languages. Samuel is determined to leverage his skills in technology, SEO, and legal practice to revolutionize the legal profession worldwide by creating web and mobile applications that simplify legal research. Sam is also passionate about educating and providing valuable information to people.