Short Happy birthday prayers for friends and family: Birthdays are opportunity to commend and send heart warming messages to your friends, family and loved ones. It is a good time to tell your friends and family how much you love them, why you love them and why you will always want to be with them.
Though, sometimes it can be very difficult to sit down and compose a birthday prayer for someone you really love, especially when you are not really good in writing down what you feel about someone. Sometimes, the job can be too much that you won't be able to say anything.
In light of that, I have been able to gather some of the best and short happy birthday prayers and wishes you can send to your friends, family and loved ones to make them feel happy. All you have to do is to copy them and probably edit them if necessary. Trust me; anyone you receives the happy birthday prayers below will love it.
Short happy birthday prayers for friends and family
Here I will share with you some short but powerful birthday prayers that can make the person you are sending it to encouraged. Be it a friend a family member or someone you admire, these are some of the short birthday prayers you can send to them. Some of the prayers here actually have biblical backups. Kindly scroll down below this page and pick anyone that interest you more:

Happy birthday my dear Friend. You're so blessed its a new season for you. Continue basking in God's love for you will excel and shine "like a city set on a hill that cannot be hiddden".
Happy birthday brother. May God's blessings overwhelm you this new season. You are so so special and I can't wait to see where God is taking you! Best wishes.
God's glory will radiate bright through your life this new season henceforth. Have a lovely new age. Happy birthday, beautiful lady.
Happy birthday to you my dearest friend and sister. I remember yesterday and I am glad of the woman you are becoming. Of a truth, you are a helper from God to me. May this day usher you into more realms. I love you.
To someone I am proud of in the Lord. May you never abort the process. A sustained growth in grace and character are my wishes for you! May Yahweh satisfy you with His fullness. You are loved!
Happy birthday my friend! I pray that God's grace will be abundant in your life. I pray you will continue in the path that you have chosen and where you are lacking that God makes up!
May God make your life be a living wonder and a testimony of what he can with anyone who faithful and sincerely follow him. Rise and shine for the glory of God is upon you , Many more fruitful years. Happy birthday!
Happy birthday my dear brother. May the Love of God keep burning inside you. May you never grow cold. You are indeed a priest of God. Keep soaring!
May you keep soaring like an amazon you are. Heaven will hold you to her breast, you will never fail God and your generation. Hitherto has the Lord helped you.. He will help you even more. Flourish like a plant tree planted by the water side. You are loved. Happy birthday!
You are rare gem. I love your passion for God and his kingdom. Keep the fire burning. Enjoy your day. Happy birthday dear!
Happy birthday daughter of Zion. You are a tool in God's hands and he won't drop you until he's done with you. Cheers to new age.
Happy birthday to you my friend. May your silent prayers be made public testimony. Keep being AMAZING, keep being AWESOME, keep LIVING… DON'T EVER Change, you are blessed.
My prayer for you is that God will not give up on His dealings with You. You shall end well! God's grace shall be so evident in your life that even the blessed shall call you blessing, Amen. Congratulations to my Heartbeat Bae.
My prayer for you is that God who has called you to this ministry, will surely give you abundant grace. Believe it or not, people are yet to drink from you. Get prepared, a journey just started. Happy birthday.
Emotional happy birthday prayers to send to your friends and loved ones
These are some of the emotional birthday prayers that can really make the receiver cry. Actually, this is a compilation of from some of the heart felt prayers I have even heard. Painstakingly go through them and pick anyone you love.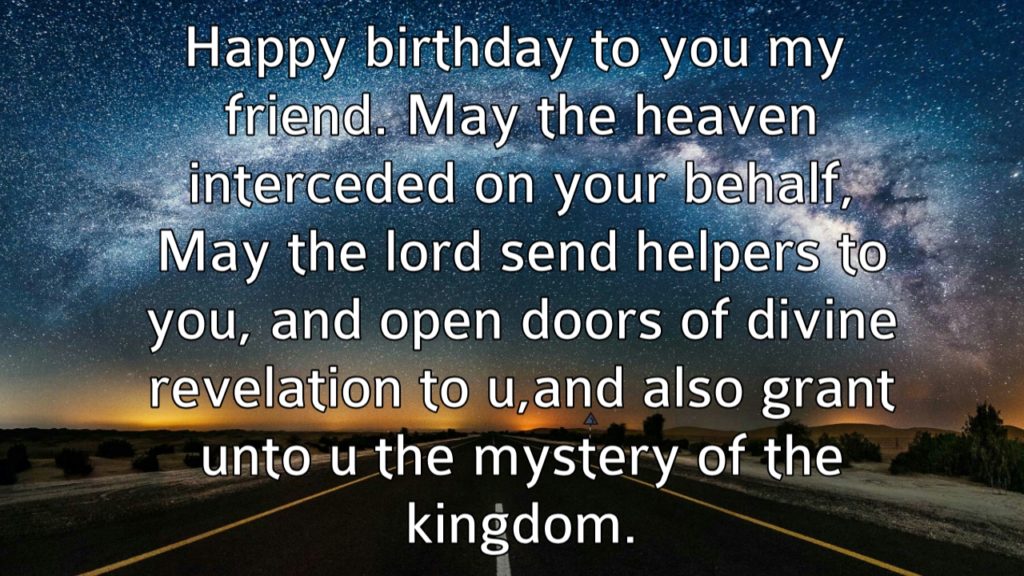 Happy birthday to you my friend. May the heaven interceded on your behalf, May the lord send helpers to you, and open doors of divine revelation to u,and also grant unto u the mystery of the kingdom.
To a praying woman of God, may the lord help, strengthen and grace you with joy and peace. May He grant you speed in every sphere of your life. May you keep on basking in His light. Enjoy your day my dear
May your life keep getting better and may you days shine brighter. You shall Grow geometrically in the grace & knowledge of God. Happy birthday dear!
Happy birthday dear. May you Excel above your equals and may the gracious hands of God never depart from you. Happy birthday once more.
Happy birthday to my one and only friend. May God bless your new age. You will continue to increase in strength, grace and d mercies of God will continue to say NO to every ills in your life. Amen
In your life ahead, may all your dreams come true. May your worries all fade away. Happiness shall embrace you each day. May you always get love and peace of mind and joy. Happy birthday dear
What God has written of you can not be thwarted; for you will fulfil all that has been written of you in the book of the volume. More fire on your altar. I love the way you care. I love the way you are always happy.
Happy birthday dear one.
I don't know were to start from my dear. You are such a wonderful person, always putting smiles on one's face. the Lord is taking u places. Happy birthday dear. Enjoy your day.
This few years I've known you, have been like forever. Indeed Our God given family are the best.
I know I've had my worst days with you but yet you didn't give up. Always on my neck. I don't know why my heart tightened right now. the love I have for you is enormous
You are a great woman, you are a woman of great substance. My heart is heavy as I type this. God bless you dear.
My prayers for you this day is that God uphold you and never let you go.
May God uplift you, may his blessings never elude you.
You are a Gift from God to me. Your name has been marked in heaven as a partaker in my story. You will never leave that path God has purposed for you! Happy birthday!
Happy birthday to someone I respect so much. The maturity you play out is quite overwhelming. God will keep and preserve you for the kingdom in Jesus name. Stay blessed beloved
I wish you all the good things of life. Thank you for your words of encouragement. You inspire me in so many ways. I pray that your love for God will never grow cold. Thank you for being you. I love you so much. Happy birthday dear
You are a brother from another mother. May God continue to increase you. You are blessed sir. Enjoy your day
Also read:
Best time to read and understand effectively
Want to become a successful lawyer? See how here
See the 7 essential pillars of democracy
How to become an intelligent student at school
Features of a Democratic government: Top 7
Okay! This I all I have to share with you on this topic. Hope you enjoyed the messages I written above? Well, I enjoin you to always check back on this page because I always update this page with more interesting and heart touching birthday messages you need.
Meanwhile, i would like to here from you. What do you really think about the birthday prayers here. Kindly use the comment section below to send your comments.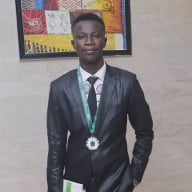 Edeh Samuel Chukwuemeka ChMC, is a Law Student and a Certified Mediator/Conciliator in Nigeria. He is also a Developer with knowledge in HTML, CSS, JS, PHP and React Native. Samuel is bent on changing the legal profession by building Web and Mobile Apps that will make legal research a lot easier.