This is to inform the general public that the prestigious Ambrose Ali University (AAU) has officially release her 2022/2023 departmental cutoff mark. Notice on the just released AAU departmental cutoff marks was made to the public via the university's website (www.aauekpoma.edu.ng) in 2023.
In light of this candidates who applied for admission in Ambrose Ali University (AAU) are advised to assiduously go through the departmental cutoff mark below.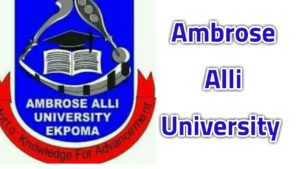 For those who don't know what AAU departmental cutoff mark is all about, note that AAU departmental cutoff marks are the minimum score given by the administrators of AAU for admitting students into her various faculties.
Thus, if you do not score up to the departmental cutoff for your course, it is most likely that you will not be offered admission into the university.
Must read:
Is AAU cutoff mark for 2023/2024 Session Out?
No! The prestigious Ambrose Alli University (AAU) has not yet released her 2023/2024 departmental cutoff marks. Apparently, the school is still processing admission for new students into the school. Cutoff marks for this new session will be released very soon.
If you want to be whenever the cutoff mark is officially released, kindly subscribe to our newsletter below this post. Alternatively, you can keep on checking this page from time to time to know when they will be officially released.
For the main time, you can checkout AAU's departmental cutoff marks for the previous session below.
Also read: Find out where your fundamental human rights are in the constitution
AAU General Cutoff Mark for Admission
AAU General Cutoff mark for 2023/2024 is 170. This means that only candidates who scored at least 170 in their JAMB UTME Screening is eligible to take the institution's post UTME screening.
I enjoin you to kindly watch the video below to understand the difference between AAU official cutoff marks and AAU JAMB Cutoff mark
AAU cutoff marks for 2023/2024 Academic Season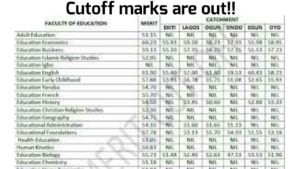 FACULTY OF AGRICULTURAL SCIENCES
Animal Science – 40
Agric. Economics – 40
Crop Science – 40.
Soil Science – 40
FACULTY OF ARTS
English – 50
History – 50
Modern Language – 40
Philosophy – 40
Theatre and Media Art – 60
Religious Studies – 40
Mass Communication 50
FACULTY OF COLLEGE OF MEDICINE
Anatomy- 45
Med Lab – 60
Physiology – 45
Nursing – 65
FACULTY OF EDUCATION
Agric science Edu – 40
Curriculum & Instr – 40
Education mgt 40 Business Edu – 45
Home Ecos 40
Guidance & C – 40
Library and Info – 40
Phy Health Edu – 40
Technical Edu – 40.
Voc and Tech – 40
FACULTY OF ENGINEERING AND TECHNOLOGY 
Civil Engineering – 50
Elect/Elect – 50
Mechanical Engineering – 50
Industrial and Production – 45
AGRIC AND BIO TECH ENG – 45
FACULTY OF ENVIRONMENTAL STUDIES
Architecture – 40
Building – 40
Fine and Apply Art – 40
Geography – 40
FACULTY OF LAW
Law – 65
FACULTY OF LIFE SCIENCES
Botany – 40
Micro Biology – 50
Biochemistry – 50
Human Nutrition – 40
Zoology – 40
FACULTY OF MANAGEMENT SCIENCES
Accounting – 50
Banking and Finance – 45
Business Administration – 45
Public Administration – 45
FACULTY of PHYSICAL SCIENCES
Computer Science – 50
Physic – 40
Geo Physics – 40
Mathematics – 40
Chemistry 40
Statistics – 40
Industrial Chemistry – 40
FACULTY OF SOCIAL SCIENCES
Economics – 50
Political Sciences – 50
Psychology – 40
Sociology – 40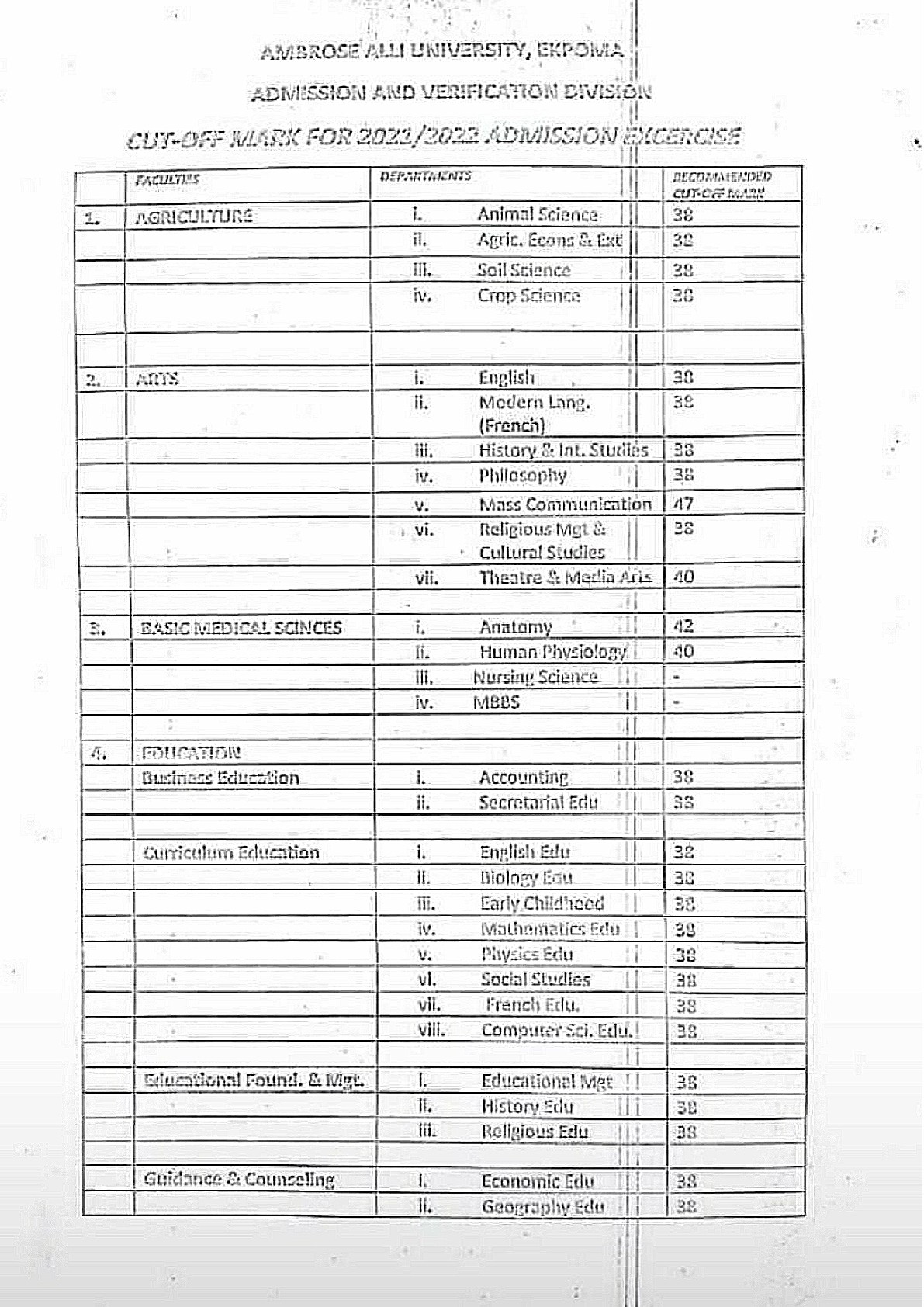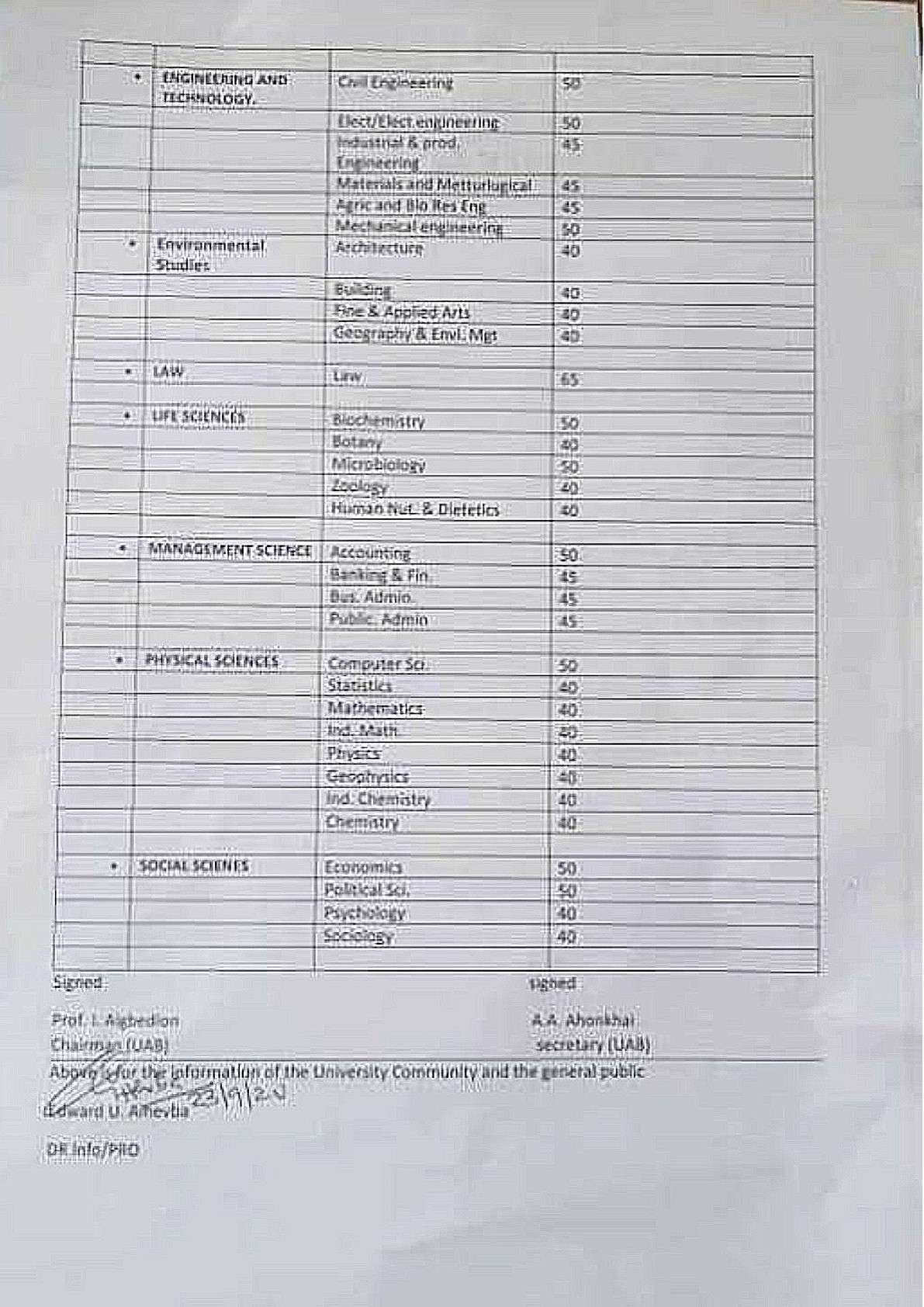 Note: These cutoff marks are from a verified AAU group on Facebook. 
It is pertinent to note that that AAU departmental cutoff marks are never static. They are changed by the school's authority every year. Thus, until the cutoff mark for this year is released, it is not advisable to rely on the cutoff marks for previous year above.
Must read: See the reason why lawyers are called liars here
How to Calculate AAU Aggregate Score 
Now that you know the required cutoff marks for all the courses in the prestigious Ambrose Ali University (AAU), i will share with you the steps to calculate your aggregate.
First of all, it is important to note that the above cutoff marks are based on the aggregate of both JAMB and Post UTME screening.
Consequently, if your aggregate is not up to the required cutoff mark for your dream course above, it means that you didn't meet the university's cutoff for this year.
Without wasting time, lets look at how you can calculate you AAU aggregate.
To calculate your aggregate, kindly divide your JAMB score by 8, divide your Post UTME score by  2 and add up the results from the two calculations.
Let me give you a practical example:
If Emeka's JAMB score is 260 and his post UTME score is 60,  below is how to calculate Emeka's aggregate:
260/8 + 60/2 = 62.5
Recommended: Best 10 universities to study law in Nigeria
AAU Admission Requirements for 2023/2024 Academic Session (UTME & Direct Entry)
While you are checking the official cutoff mark for admission, it is pertinent to know that AAU does not only consider cutoff marks when offering admission. Thus, to be offered admission into AAU, aspirants must meet the following admission requirements too:
Candidates must make Ambrose Ali University (AAU) their first choice of institution.
Candidates must have at least 5 credits (English and mathematics inclusive) in their O'level result. Your O'level result can be your WAEC, NECO, GCE or NABTEB result.
UTME candidates must also take part in the university's post UTME screening if the examination is said to be conducted.
Candidates must have attained the age of 16 to be offered admission into AAU. If you are not up to 16 yet, you will not be offered admission.
Candidates must come with a letter of recommendation from the secondary school they graduated.
Candidates must also come with a letter of reference written by any reputable person from their community.
Failure to do any of this will mitigate your chance of gaining admission into Ambrose Ali University (AAU).
If you need more information on AAU admission requirements for all courses in 2023/2024 , kindly check here.
Candidates are to note that the cutoff marks above applies to both UTME and Direct Entry candidates of the school.
Recommended: Countries Where Education Is Free Around the world 2023
Interesting Facts About Ambrose Alli University You Should Know
1. Ambrose Alli University, often known as AAU, is a public institution of higher learning that can be found at Ekpoma, which is located in Edo State in Nigeria. It was founded in 1981 and was first known as Bendel State University when it first opened its doors.
Later on, the university was renamed in honour of Professor Ambrose Folorunsho Alli, who had previously held the position of governor of the state that is now known as Bendel State and had been instrumental in the formation of the educational system. AAU is widely regarded as one of the most prestigious educational institutions in Nigeria, and it is home to a comprehensive undergraduate and graduate curriculum that spans a broad variety of academic fields.
2. Professor Ambrose Folorunsho Alli, a prominent Nigerian educator, philosopher, and a former governor of the now-defunct Bendel State (which is now divided between Edo and Delta States), was honoured with the naming of this educational institution.
The University has continued to flourish extraordinarily well ever since it was founded, and it has continued to welcome an increasing number of candidates each year as it has managed to carve out a unique niche for itself academically.
3. The National Universities Commission (NUC) of Nigeria has granted accreditation to the American University in Nigeria (AAU), which enables it to provide a comprehensive range of undergraduate and graduate degree programmes in a variety of academic disciplines. Ambrose Alli University (AAU), which has received accreditation from the NUC, provides students with access to a broad variety of undergraduate and graduate degree programmes in a variety of academic disciplines.
Students benefit from this since it opens up a wide variety of academic options for them to explore their interests and learn about the subjects they want to study. Accreditation not only assures that the programmes offered by the university are in accordance with the national educational requirements, but it also boosts the legitimacy and worth of the degrees that are granted by the school. Students may have full faith in the kind of education they get and the credentials they gain when they attend a recognised university or college such as AAU.
Conclusion
That is all on AAU departmental cutoff mark for 2023/2024 academic session. Don't forget to keep checking back on this page if you really want to know when AAU departmental cutoff marks will be officially released.
Also read: How to become a successful lawyer in Nigeria
Well, my advised for you is that; you should apply for a change of course/institution form if your score is far below the cutoff point. However, if you know that your score is not too far or is above the cutoff point then just keep calm and pray. It is most likely that you will be admitted into the university this year. If you still have any question to ask, do ask me using the comment section below this post.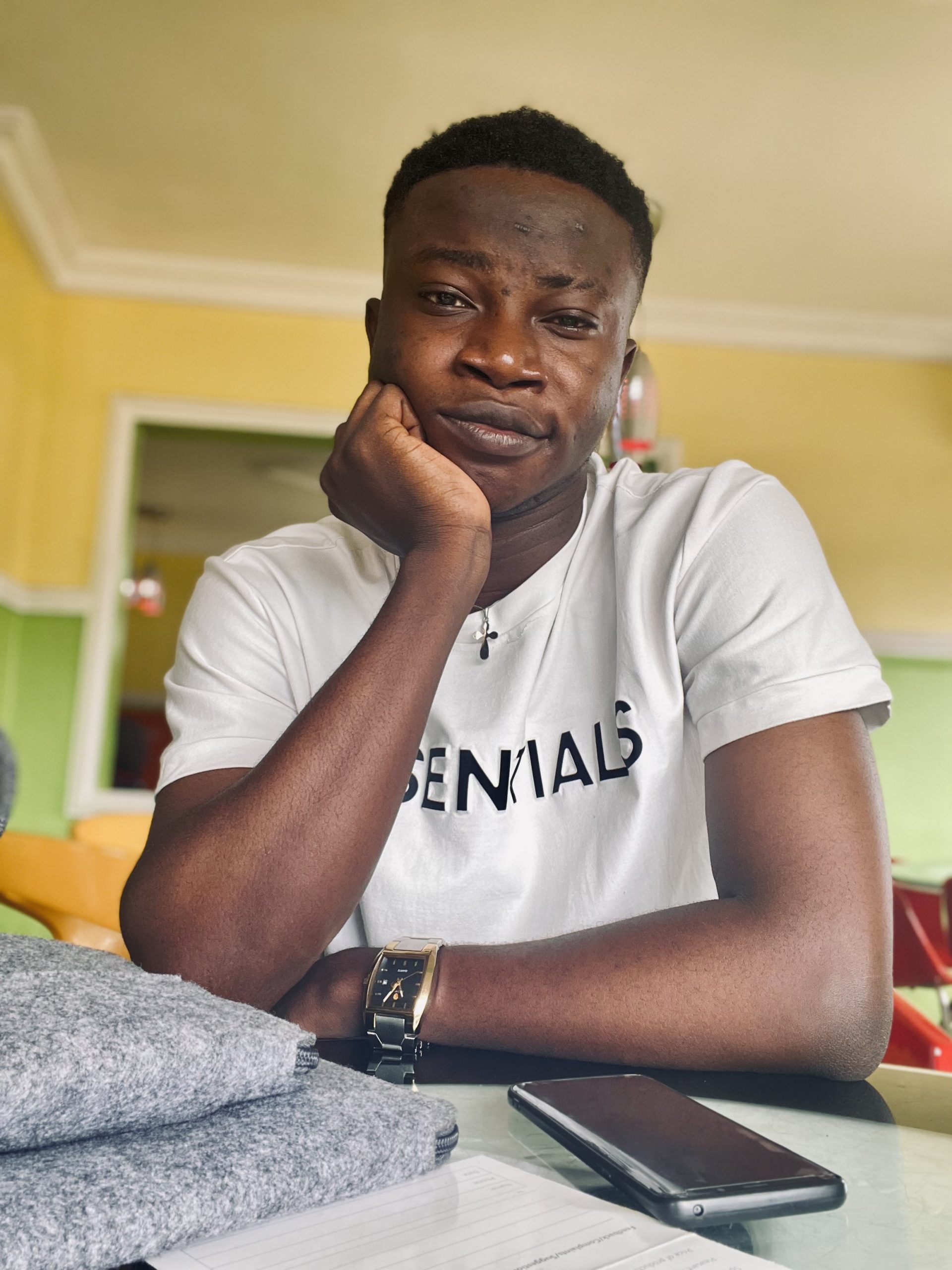 Edeh Samuel Chukwuemeka ACMC, is a Law Student and a Certified Mediator/Conciliator in Nigeria. He is also a Developer with knowledge in HTML, CSS, JS, PHP and React Native. Samuel is bent on changing the legal profession by building Web and Mobile Apps that will make legal research a lot easier.