Information reaching me today shows that the prestigious Enugu state university (popularly called ESUT) has releases her 2019/2020 departmental cutoff mark. Notice on the just released ESUT departmental cutoff marks was made through the university's website at www.esut.edu.ng. In light of this notice, I enjoy all the aspirants of ESUT to quickly go though the cutoff marks below to know the stipulated scores for their courses.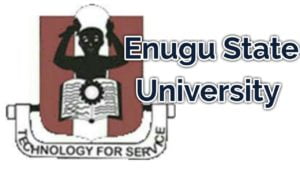 For those who still don't know what ESUT departmental cutoff mark is about; ESUT cutoff marks are the stipulated scores or marks by the management of ESUT for admitting students into different faculties of the institution. Thus, if you want to gain admission into ESUT, you must meet up to the required cutoff point for your course.
I strongly advise you to check the video below for a better and clearer explanation of the difference between JAMB general cutoff mark and university cutoff mark. Here, you will see how both of them are essential for admission in 2020.
Also Read:
ESUT departmental cutoff marks for 2020/2021 Academic Session
ESUT school fees for 2020 is out! Check here
Does ESUT accept second choice candidates for admission? See answer
UNN departmental cutoff marks 2020
Is ESUT cutoff mark for 2020/2021 out?
No! The Enugu state university of Science and Technology (ESUT) has not yet release her 2020/2021 departmental cutoff marks for admission. Nonetheless, it is likely that the university will release it before the end of August 2020.
In light of the above, students that wants to be informed whenever the cutoff marks are released should kindly subscribe to our newsletter below this post. Alternatively, you can check back this page from time to time to know when it will be released.
JAMB Official cutoff mark for ESUT 2020
JAMB cutoff mark for Enugu state university (ESUT) in 2020 is 180. This means that before any student will be offered admission into ESUT this year, he/she must score at least 180 in JAMB examination. However, you should not forget that ESUT is at the discretion to increase or decrease this cutoff point at any time. For instance, in 2019, students who had 170 in JAMB and did very well in Post UTME screening were able to gain admission in ESUT.
ESUT Departmental cutoff marks for 2019/2020 academic session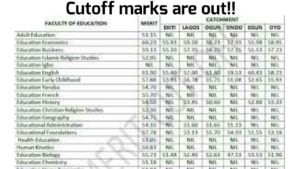 Currently, Enugu State University (ESUT) does not have any particular cutoff point for 2019. Nevertheless, before anyone can gain admission into ESUT he/she must score, at least, 180 in JAMB UTME. Coupled with that, candidates perform very well in their O'level & post UTME screening. Below are the courses in ESUT and their cutoff marks:
Applied Microbiology – 180
Architecture – 180
Applied Biochemistry – 180
Accountancy and Accounting – 180
Agricultural science and Education – 180
Agricultural Engineering – 180
Adult Education – 180
Biology – 180
Biochemistry – 180
Computer Engineering – 180
Civil Engineering – 180
Chemical Engineering – 180
Vocational and Technical Education – 180
Technology and Vocational Education – 180
Food Science and Technology – 180
Animal Science and Fisheries Management – 180
Physical and Health Education – 180
Guidance and Counselling – 180
Agronomy and Ecological Management – 180
Agricultural Economics and Extension – 180
Educational Management – 180
Educational Foundations – 180
Public Administration – 180
Marketing -180
Educational Administration and Supervision – 180
Education and Chemistry – 180
Insurance and Risk Management – 180
Cooperative and Rural Development – 180
Education and Biology – 180
Education and Mathematics – 180
Business Administration – 180
Sociology and Anthropology – 180
Psychology – 180
Political Science – 180
Mass Communication – 180
Geography and Meteorology – 180
Economics – 180
Banking and Finance – 180
Microbiology – 180
Mathematics and Statistics – 180
Industrial Physics – 180
Industrial Mathematics/Statistics – 180
Geology and Mining – 180
Industrial Chemistry – 180
Computer Science=180
Medicine and Surgery – 200
Anatomy – 200
Law – 200
Urban and Regional Planning – 180
Surveying and Geoinformatics – 180
Quantity Surveying – 180
Metallurgical and Materials Engineering – 180
Mechanical/production Engineering – 180
Land Surveying – 180
Estate Management – 180
Electrical and Electronics Engineering – 180
Building technology – 180
Must read:
TOP Schools that accept second choice candidates for admission in Nigeria
How to prepare for post UTME examination and pass excellently 
How to become an intelligent student.
UNIBEN departmental cutoff marks for 2019/2020 session is out now 
General requirements for Admission into ESUT (2020/2021)
It is very imperative to know that ESUT consider many other things (Aside cutoff marks) when offering admission to students. Below are the requirements for admission in Enugu state university (ESUT):
Candidates must score, at least, 5 Credits (including English language and Mathematics) in their O'level result. O'level results here can be your WAEC, NECO, GCE or NABTEB certificate.
Candidates must take part in the university's post UTME screening if it is conducted.
Candidates must have attained the age of 16 at least.
Candidates who wish to gain admission into ESUT must make the university their first choice to be offered admission.
O'level result must not be more than two sittings
Check here to see other requirements for admission into Enugu State University of Science and Technology. 
Yeah! That is all I have on ESUT 2019/2020 departmental cutoff marks now. Remember to check back this page from time to time if you want to be informed whenever ESUT departmental cutoff marks for 2019/2020 academic session will be released.
My advice for aspirants is that; if your cutoff mark is far lower than the one given by ESUT, quickly apply for JAMB change of course and institution form immediately. On the other hand, if you score is not too low, just keep calm and pray that you will be admitted in the university's supplementary list. Any other question on this topic should be directed to me via the comment section.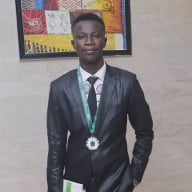 Edeh Samuel Chukwuemeka ChMC, is a Law Student and a Certified Mediator/Conciliator in Nigeria. He is also a Developer with knowledge in HTML, CSS, JS, PHP and React Native. Samuel is bent on changing the legal profession by building Web and Mobile Apps that will make legal research a lot easier.