Highest Paid footballers in Nigeria: Football is one of Nigeria's most popular sports. The wonderful game of football has millions upon millions of followers. As a result, the sheer level of football talent emerging from the country is expected. Many foreign recruiters are always on the hunt for the next big thing to send to one of the world's top leagues.
Nigerian footballers are also recognized for being among the world's most popular and well-paid athletes. While playing in widely known football leagues such as the Bundesliga, La Liga, and the English Premier League, many Nigerian footballers live in luxury.
Recommended: Reasons Why Ronaldo Is Better Than Messi
Top 12 Richest and Most Paid Nigerian Footballers in 2023 (With Pictures)
1. Odion Ighalo: Odion Ighalo is a Nigerian striker who now plays for Manchester United in the Premier League as well as the Nigerian national team. If he had not taken a wage cut to join Manchester United on loan from the Chinese side Shanghai Shenhua in January 2020, the Nigerian striker would have been at the top of this list by a larger margin. Ighalo was paid £300,000 every week in China.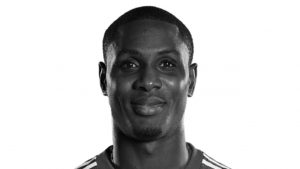 Manchester United's Odion Ighalo earns £130,000 a week. Despite taking a wage reduction to join United, he rises to the top of the list and becomes the highest-paid Nigerian player in the world.
2. Victor Moses: Victor Moses is one of the richest professional footballers in Nigeria. At the moment, he plays for Spartak Moscow and the Nigerian national team as either a winger or full-back. He is among Nigeria's most experienced and well-travelled and footballers, having played around the world. Moses was loaned by Chelsea and in the early months of 2017, that contract was extended.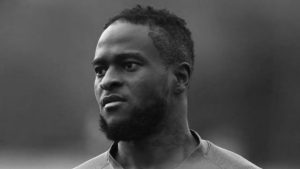 While he has been on loan from Chelsea in Turkey, Italy, and now Russia, his weekly pay is £110,000. Moses had been at Chelsea for five years under the Italian manager Antonio Conte and was having a successful season. The management opted to sign him to Inter, but he was loaned out to FC Spartak Moscow after a season. Moses is the highest-paid Nigerian footballer in Europe.
Also see: Salary structure of Nigerian Doctors in 2022
3. Wilfred Ndidi: Wilfred Ndidi is a well-known professional Nigerian footballer. He plays the defensive midfield for Nigeria and his team in Europe, Leicester city. his skills and tactics on the football pitch are very remarkable. his run in the English club, Leicester City have been a good one.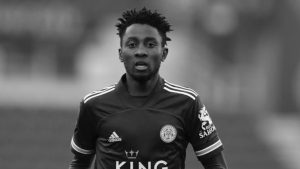 Ever since he first joined the foxes in the early months of 2017, he was exceptional. continuously, he has performed well for the club and his consistency as a defensive-midfielder is rare. because of his incredible talent, in the summer of 2018, he was awarded a contract, lasting for 6 years. the contract stipulated a pay of £75,000 per week.  this current contract has automatically made him the highest-paid footballer from Nigeria in a premier league team.
4. Moses Simon: Moses Simon is a Nigerian pro footballer who currently plays as a striker for FC Nantes. He rose through the Ajax academy system as a forward. He's also played for the Nigerian junior squad and the senior national team. In 228 outings for his clubs in all games, he has netted 48 goals.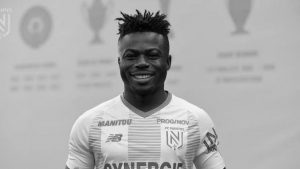 In the summer of 2019, the Nigerian striker moved to Nantes on loan from Levante in Spain. He maintained his €37,500 weekly salary from Levante to become Nantes' top-paid player. Simon was granted a permanent deal based on the same pay after excelling while on loan and ending the 2019/2020 season as the club's best player.  Thus, he earns an annual paycheck of €1,950,000 Million.
Also see: Past leaders of Nigeria from 1914 till date
5. Ahmed Musa: Ahmed Musa is a well-known professional footballer who plays forward and winger for the Saudi club Al Nassr and his home club Nigeria. He is regarded as one of Nigeria's best forwards. Musa stunned the world by scoring two game-winning goals in a match against Iceland at the FIFA World Cup in 2018.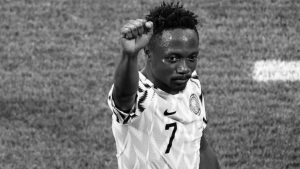 Following his performance at the FIFA World Cup, Al Nassr, a Saudi club, raced to sign the Nigerian forward. Leicester City was delighted to let him go since he didn't perform well for the club and also were eager to get a higher fee than the record signing of £16.6 million for which he had been bought. That was how high Al Nassr's rated the Nigerian forward. The club also gave the Nigerian a deal that would earn him £60,000 weekly.
6. Kelechi Iheanacho: Kelechi Iheanacho is a professional footballer. He plays for both Leicester City and Nigeria as a striker. Manchester City was the club that initially introduced him to the international scene. The Nigerian saw plenty of action for his earlier team and exuded signs of tremendous potential.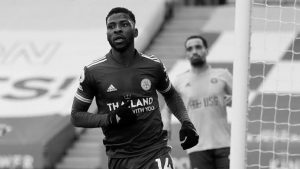 His immense talent attracted so it was no shock when Leicester City opted to recruit him. He is quite famous for his speed and finishing abilities. The striker joined Leicester City as a highly-rated teenager in the off-season of 2017 for a disclosed £25 million transfer fee. The striker was given a weekly wage of £60,000, making him one of Nigeria's highest-paid players. He is, in reality, the second-best paid Nigerian player in the United Kingdom. According to a story in the UK Sun, the Nigerian international makes more than £100,000 per week through endorsements, although that figure has not been confirmed elsewhere.
Recommended: How to start a conversation with someone for the first time
7. Alex Iwobi: Alex Iwobi is a Nigerian footballer who plays for Everton in the Premier League and the Nigerian national team. He is without a doubt one of the most gifted and skilled players on this list. Iwobi is capable of playing both as a striker and as a winger. He is well-known for his quickness, agility, dribbling, and precision finishing. The Nigerian started his career at Arsenal, where he played 149 times and scored 15 goals. In 2017, he was also successful in winning the FA Cup.
In August of this year, he moved to Everton for a price of £28 million.  In the offseason of 2019, the Nigerian midfielder joined Everton from his old club Arsenal. Iwobi, on the other hand, did not receive a raise after this.   Rather, he was paid the same weekly wage as he had been at Arsenal. He receives a huge £50,000 weekly income. As a result, his yearly earnings are projected to be approximately £2,640,000.
8. Ola Aina: Ola Aina is a wingback for Fulham, placed 8th on this list. He joined Fulham on loans from Torino. He is also a member of Nigeria's football team. The Chelsea wing-back rose through the ranks of the club's academy, eventually making the first team, after which he was bought by Torino. Currently, he is loaned to Fulham for the entire duration of the premier league. There is the possibility that this loan may be made permanent. In November, last year, the winger won the Premier League Goal of the Month.
Coming up through the ranks at a club like Chelsea and being on the outskirts of the first team boosts your worth, which helps your career. Ola Aina, who joined Torino from Chelsea for €35,500 per week, experienced this. As a result, he makes €1,846,000 each year. With his talent, the young winger has the potential to become one of the Premier League's Nigerian superstars.
RECOMMENDED: How to choose the career path that fits you
9. Isaac Success: Isaac Success is a Nigerian professional footballer who is now rated 10th on our list of the highest-paid Nigerian players. He is presently 23 years old and plays forward for Watford FC in the Premier League. He earns a weekly salary of £30,000, making him one of the club's highest-paid players. As a result, he makes about £1,560,000 every year.
10. John Obi Mikel: John Obi Mikel is a well-known Nigerian footballer. He has played in more than 90 matches for Nigeria's national team both domestic and abroad. When he was with Chelsea, it was claimed, that he was at the height of his career and was usually among the first team.
Throughout his time with Chelsea, they won the premiership on two occasions. The 33-year-old Nigerian plays for Stoke City in the Championship. He's a midfielder who plays the defensive on the right side of the field. He just inked a contract with Stoke City to secure a transfer from Turkish club Trabzonspor. The transfer fee, on the other hand, has remained unknown. He presently receives a weekly salary of €27,900. As a result, his yearly salary is € 1,450,000.
Recommended Most Powerful African Countries 2023: Top 12 Strongest
11. Victor Osimhen: Victor James Osimhen, who was born on December 29, 1998, is one of Nigeria's most talented and sought-after players. The Edo State player is undoubtedly one of the richest football players in Nigeria. He started his football career in 2017 at the Ultimate Strikers Academy in Lagos. Emmanuel Amunike, a Nigerian football coach, found Victor. During his stint with the Nigeria U-17 team, he mentored the young striker, saying that he shares qualities with Didier Drogba and may even outperform the Ivorian in terms of accomplishments.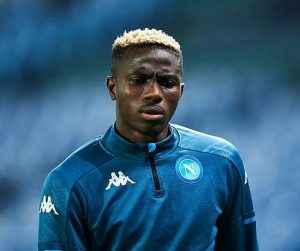 Victor deservedly made a great deal out of himself by winning the FIFA U-17 World Cup Silver Ball and the highest goal scorer title with 10 goals, in addition to playing a significant part in the Nigerian under-17 team's victory in Chile in 2015.
Top European clubs started to show interest in him after his outstanding performance for the French team Lille. The young Nigerian signed with SSC Napoli, and as of September 2020, his contract would pay him a staggering income of 5 million euros (4.6 million pounds) year. The most expensive player in Nigeria right now is the Super Eagle striker. Osimhen earns a staggering amount of money from his contract with Nike as its brand promoter, in addition to his mouthwatering salary.
Recommended: Best books on african history
12. Peter Etebo: Etebo Peter Oghenekaro, a Nigerian football midfielder who broke the record for the quickest hat-trick in 25 minutes, is one of the wealthiest athletes in that country after starting his professional career in 2013. After netting the first hat-trick of the year, Etebo, a former player for the Warri Wolves, started to accumulate his professional achievements. He gained more notoriety with his 2014 CAF Confederations Cup performance, which led to interest from numerous foreign clubs.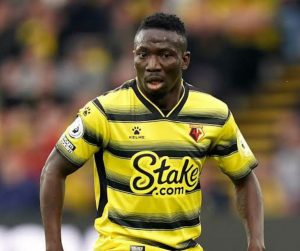 In addition to his inherent attacking skills, Peter has been regarded as a box-to-box midfielder with unmatched energy who can also support defensive play. He has also played right back for his club and his country due to his versatility.
The athlete from Lagos State, with a marketing worth of $3.6 million, has seen his wealth rise steadily as more lucrative contracts are signed. His professional success with the Nigerian soccer team Warri Wolves influenced him to agree to a contract with CD. Feirense of the Portuguese Primeira Liga in 2016. On January 31, 2018, CD Feirense loaned him to the Spanish La Liga team Las Palamas for a period of six months.The Nigerian star made about $11,065 per week while he was with Las Palamas.
When he signed up for Stoke City in 2019, his yearly wage was almost £1,508,000, annually or £29,000 per week. When he signed a loan deal with Turkish club Galatasaray for the 2020–21 season, his pay was revised to £1,508,000 annually and £29,000 weekly. Etebo is among the wealthiest football players in Nigeria with a market worth of almost €3.20 million.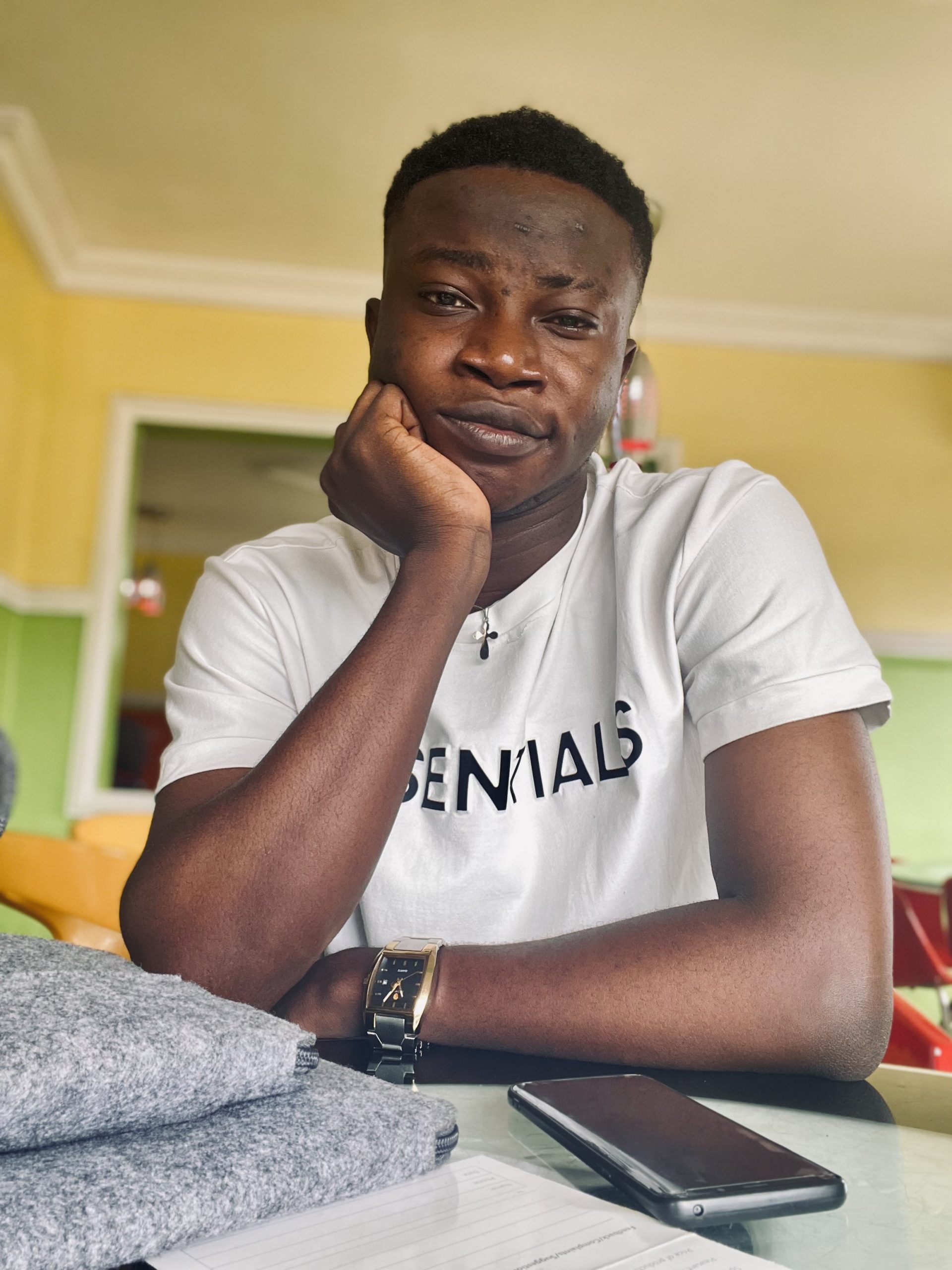 Edeh Samuel Chukwuemeka ACMC, is a Law Student and a Certified Mediator/Conciliator in Nigeria. He is also a Developer with knowledge in HTML, CSS, JS, PHP and React Native. Samuel is bent on changing the legal profession by building Web and Mobile Apps that will make legal research a lot easier.