UNN Direct Entry form for 2020/2021: It is no longer news that the University of Nigeria, Nsukka (UNN) has finally released her 2020/2021 post UTME and Direct screening form for students to purchase. This information was passed to us by a student of UNN some weeks ago. Accordingly the Registrar of UNN has also confirmed that UNN direct entry form is out! Aspirants are advised to buy and register for UNN 2020 direct screening examination online.
In light of the above, if you wish to gain admission into the University of Nigeria, Nsukka through Direct Entry in 2020, kindly follow the steps provided in the article to purchase the form online and register on time.
Like i will always say, registering on time is better because you never can't tell when the university will close her application portal. So, if you have the money, please go an register for UNN Direct Entry form now!
For JAMB UTME candidates, i have already written a post that will guide you in purchasing and registering for UNN post UTME examination online. Kindly CHECK HERE for more information on UNN 2020/2021 post UTME registration forms.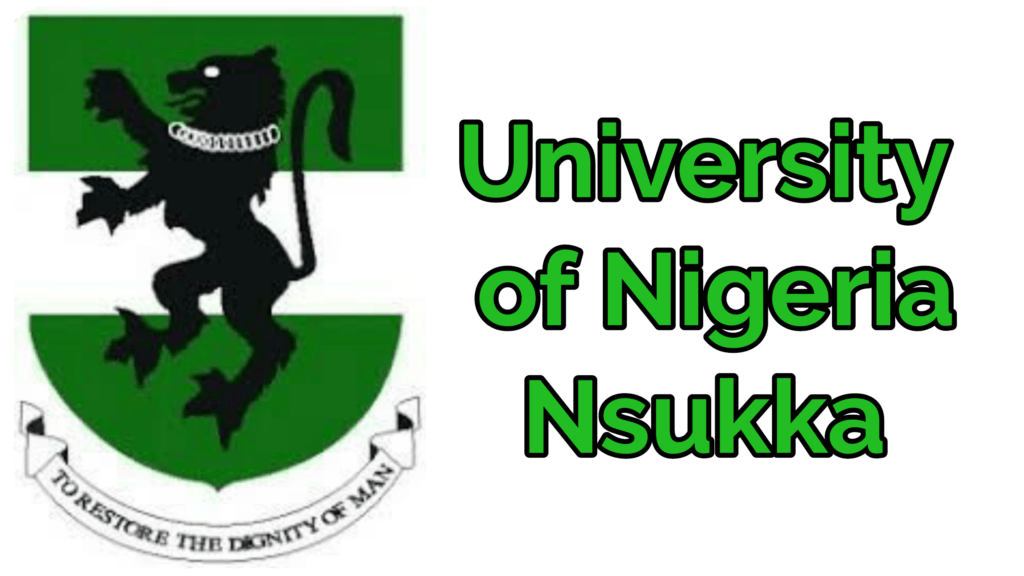 Is UNN Direct Entry form for 2020 truly out?
If you are one of those who is not sure whether UNN Direct Entry screening form for 2020 is out or not, the truth is that the form is out. Yes! UNN Direct Entry screening form for 2020/2021 is finally out!
You are advised to follow the instructions contained in this post if you wish to purchase the form online and register for the examination.
Also read:
UNN departmental cutoff marks for 2020/2021 academic session
UNN school fees for 2020 is out! CHECK HERE
Most populated universities in Nigeria 2020
How to retrieve lost WAEC certificate: See steps
How much is UNN direct entry form?
The price for UNN direct entry form for 2020 is N2,000.00 (Two thousand Naira only). This is equivalent to 5.45 dollars for international students. Aspirants are expected to pay this money directly to the University of Nigeria, Nsukka (UNN) through Remita or Credit Card transaction.
2020 Admission Requirements for UNN Direct Entry
Below are the requirements for direct entry students into the University of Nigeria, Nsukka:
Candidates must make the University of Nigeria, Nsukka their first choice of institution.
Candidates are expected to have, at least, 5 credit score (English and Mathematics inclusive) in their O'level result. The other three subjects must be related to the court of study of candidates.
Candidates with a minimum of Lower Credit in Diploma or Merit grade in NCE from a recognized tertiary institution and have five relevant O' level credits (including Mathematics and English language) are eligible to register into 200 level
Candidates must take part in UNN Direct entry screening examination and must perform very well in the examination.
MUST READ: Differences Between Federalism and Unitary System of government
Requirements to register for UNN direct entry screening examination
At least two passport photographs. This will be scanned and uploaded in the school's portal.
Certificate of birth or age declaration
Secondary education testimonial
Certificate of origin
O'level result. This could be WAEC, NECO or GCE certificate
Original JAMB result
How to purchase UNN direct entry form and register online
Kindly follow the step by step instructions below to register for UNN direct entry examination:
Step 1. Visit UNN direct entry portal using the link below:
https://unnportal.unn.edu.ng/ApplicationFormPage.aspx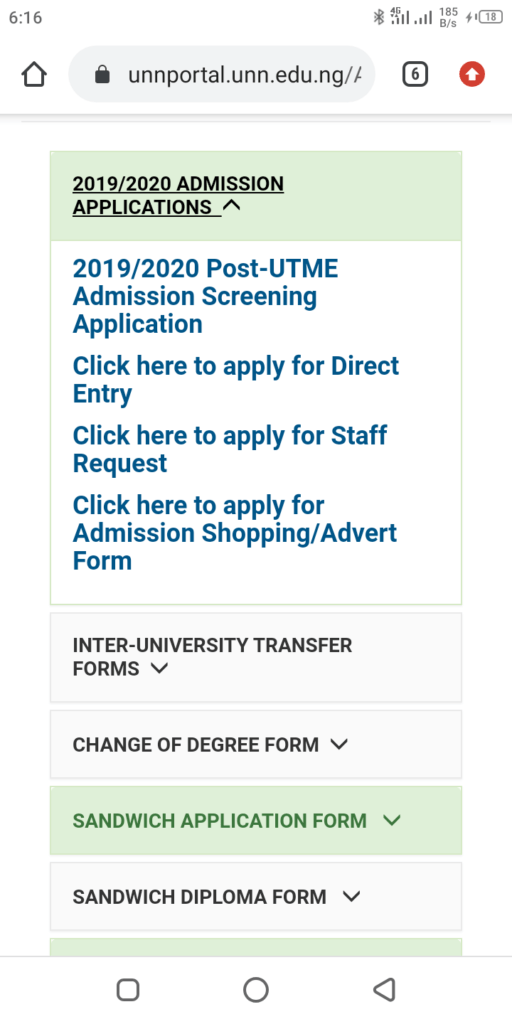 Step 2. When you visit the page, the image above will appear on your screen. Now, click on 2020/2021 ADMISSION APPLICATIONS
Step 3. On the page that appears after the above step, select Direct Entry admission
Step 4. Enter your JAMB Registration Number in the space provided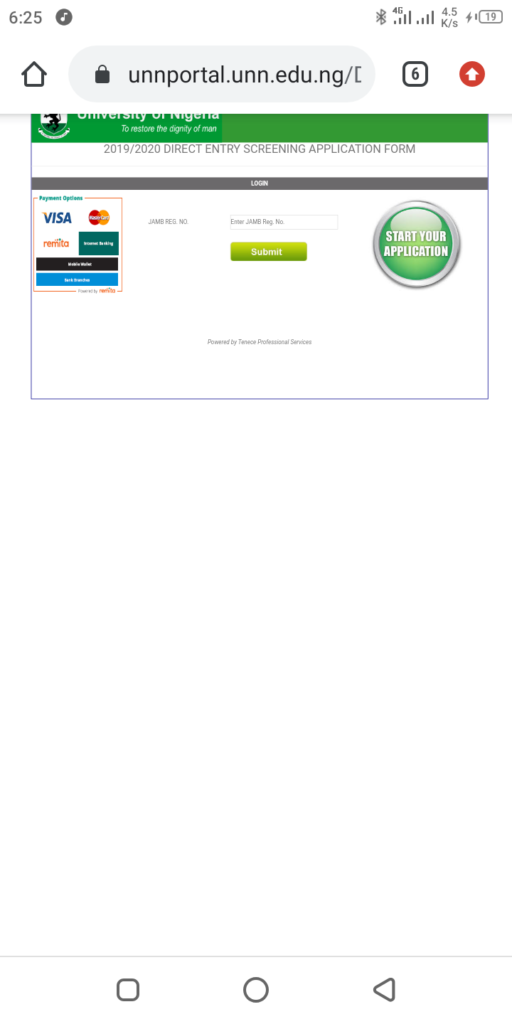 Step 5. After entering your JAMB Registration Number, you will be able to generate Remita for payment to pay the recommended fee through bank. Alternatively, you can choose to pay through bank if you want to.
Step 6. Proceed to any commercial bank in Nigeria for Payment or pay using your ATM Card.
Step 7. I personally advise you to try Access bank. They usually have a faster Remita system. All you have to do is to pay their extre service fee of N300 (Three hundred Naira only).
Step 8. Return to UNN DE Portal after payment.
Step 9. Re-enter your JAMB Registration Number.
Step 10. Complete you registration by entering your
Step 11. Date of Birth and uploading other relevant documents to the portal.
Step 12. Enter your O/Level Subjects and Grades (also provide your Centre and Examination Number)
Step 13. Re-enter your grades correctly
Upload Certificates (Ensure that their sizes are not above 100KB)
Birth Certificate
Local Government Identification
Testimonial
First School Leaving Certificate
JAMB Result Slip
O/Level 1
O/Level 2 (for double sitting candidates)
Step 14. Click the NEXT button
Step 15. Review Summary Page and check that all details entered are correct
Step 16. Check the CONFIRMATION BOX and submit your registration by clicking the SUBMITTION BUTTON
Step 17. Print your acknowledgement slip and bring it to the examination center on the day of the examination.
When will UNN Direct entry screening end?
Currently, i can't say, for sure, when UNN Direct Entry screening registration 2020/2021 will close or end. However, since the university usually end registration 3 weeks after the commencement of the registration, it is most likely that UNN 2020/2021 Direct Entry Form will end three weeks from now.
Instructions for the examination
Please note that the University of Nigeria is a very strict school. So please try not to come to the examination center with you phones, bags, cap etc. In fact, if you know anything that will implicate you in the examination, try to avoid it. This is the best thing you can do for yourself.
MUST READ:
Download PDF version of UNN merit admission list HERE
UNICAL Departmental cutoff marks for 2020
Cheapest universities in Nigeria: Top 10
Best education websites for students in Nigeria 2020
Conclusion:
For now, this is all I can tell you concerning UNN direct entry or DE screening form. For more information on UNN direct entry forms for 2020, i enjoin you to always visit this page. Alternatively, you can subscribe to this website so that all our recent publications will be sent to you via email.
Hope this was helpful? If you have any more questions on the just released UNN Direct Entry Form, kindly sent it using the comment section. I will be glad to hear from you!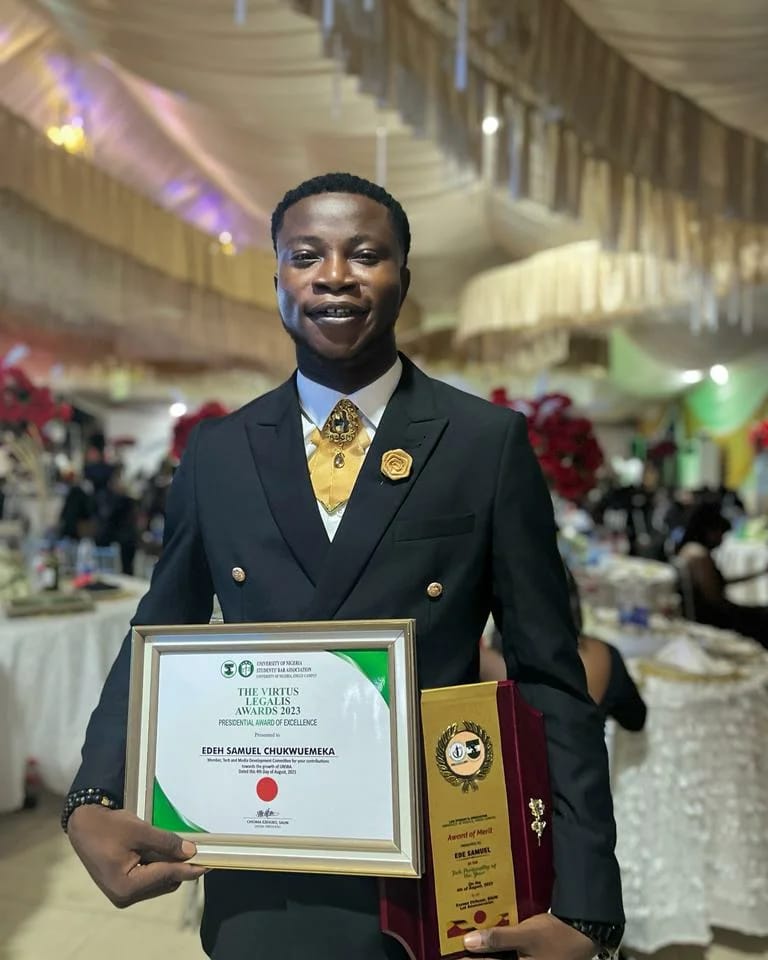 Edeh Samuel Chukwuemeka, ACMC, is a lawyer and a certified mediator/conciliator in Nigeria. He is also a developer with knowledge in various programming languages. Samuel is determined to leverage his skills in technology, SEO, and legal practice to revolutionize the legal profession worldwide by creating web and mobile applications that simplify legal research. Sam is also passionate about educating and providing valuable information to people.