Most Beautiful Cities In The World: This world is made up of over 10,000 cities, each with its own personality and charm. Some are centuries old, boasting exquisite craftsmanship by ancient artisans and surviving today owing to the passion of modern people who wish to preserve their hometown heritage by saving landmarks and the world's most magnificent museums, as well as by building historic hotels.
Others have more young energy, with communities bringing new ways of life to the fore, from how we design to how we eat to the technology we use. Then there are the innumerable cities that boast some of the world's most stunning gardens. It's practically hard to narrow down a list of the world's most beautiful cities since each one offers something different.
However, we've chosen culture hubs for our guide that honor the past by preserving art and architecture while also encouraging new creatives and thinkers to innovate and rethink metropolitan identity. This article features some of the most beautiful cities in the world, ranging from an ancient Greek city rich in culture and history to a trendy, booming arts city nestled in the Thai highlands.
Recommended: Most beautiful countries in the world 2023
Top 16 Prettiest & Most Beautiful Cities At Night In the World
1. Paris, France: Paris is the most beautiful and elegant of all cities, with its monumental squares, centuries-old cathedrals, famous boulevards, the Seine and its romantic bridges, majestic mansions, and Montmartre's cobblestone streets. The City of Light has influenced not just painters, sculptors, authors, poets, and composers, but almost every major international capital, with each city claiming its own Champs-Elysées. It's simple to see why so many people fall in love with Paris when they take a cruise down the Seine or sit on a café terrace and watch the world go by.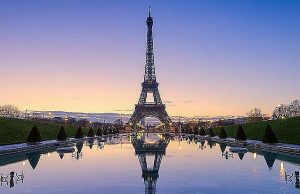 Spring (April to June) and fall (September to November) are the finest periods to visit Paris (September to October). Last summer and winter, Paris saw high temperatures, possibly as a result of global warming. The high heat, along with the pollution, make summer visits to Paris unpleasant.
2. Venice, Italy: More than 400 bridges connect the city of the channels, which is made up of over 100 tiny islands. Its greatest attraction is that it is a pedestrian-only city, with only the boats that span its waterways as the only mode of transportation. As a result, Venice is known as one of Europe's most charming and unique towns. It has been adorned by several painters. There is a Venetian School of painting that may be found in various museums across the world.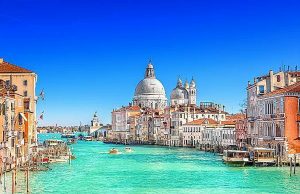 The Plaza de San Marcos, as well as Renaissance architecture, are two of the city's most notable features. There are some of the most popular tourist-friendly Italian cafes and eateries there. It was also a crucial nexus for the development of Italian music. It is not only the birthplace of Vivaldi, but it also has one of the world's most famous opera coliseums.
Also see: Best Countries To Study and Work as a Doctor
3. Prague, Czech Republic: The most amazing, beautiful, and economical vacation spot. The ancient town is brimming with ornate, towering structures that would make any architect scream. Prague is far less expensive than any other European city, including those in France, Italy, England, and Spain. Standing across the Vltava River and watching the totally gorgeous sunset over Prague Castle is one of the genuine thrills of traveling in Prague.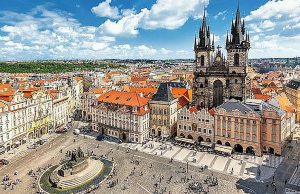 Prague is a historically significant city. It sits atop a hill above town, surrounded by gardens, winding walks, and brick-paved staircases. It is regarded as one of the most beautiful cities on the planet. The Astronomical Clock in Prague is a towering ornate clock tower that overlooks Old Town Square and is one of the city's most popular attractions. In the evening, stroll across the plaza and browse the stores, art galleries, cafés, and pubs.
4. San Francisco (USA): San Francisco's lovely bay gives this city of 43 hills the sense of a beach resort. It's artsy, bohemian, and breathtakingly beautiful. The residents of the Bay City adore it more than any other city in the United States, and few cities in the world.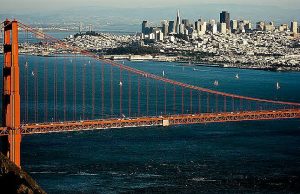 It's ideal to explore this lovely city on a bike, with sights like bell-ringing cable cars, spectacular bridges, notorious Alcatraz, the Ferry Building, and, of course, the sea lions. With pleasant temperatures and sunny days, fall (September to November) is the greatest season to visit San Francisco.
Spring is also an excellent period; however, the breezes will be a little more biting. Summer brings a spike in visitors to the Golden Gate City, but it is not a favorable season to come because the city is frequently covered in fog (making summer days quite chilly and you will miss the views). Rain and chilly temperatures are common in San Francisco throughout the winter months (despite this being California).
Also see: How to become a better version of yourself
5. Bergen, Norway: Bergen is one of Norway's most photographed cities, as well as one of the most beautiful in the world. Bryggen, the city's historic area, was once owned by the Hanséatica League and is a postcard of colorful houses. It is surrounded by seven hills, some of which are claimed to be home to the town's legendary trolls.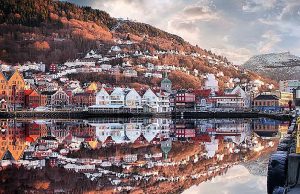 It's also a good place to start exploring the Norwegian fjords. As a result, it's unsurprising that it's one of the most important places to pause and reflect on this natural marvel. The KODE Museum houses a collection of Edvard Munch's greatest works. The port, where various street sellers sell some of the country's gourmet pleasures, will provide a greater flavor. They specialize in salmon and dried cod.
6. Cape Town, South Africa: Cape Town is undoubtedly one of Africa's most cosmopolitan cities, making it a must-see on any vacation to the country. And it has done the finest job of combining its European roots with its African identity. The vibrant colors of its lovely buildings are its major draw. Its surroundings, which are virtually entirely made up of pure nature, are similar.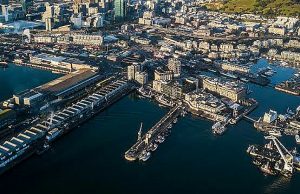 Large hills with lush flora, as well as crystal blue water beaches with penguin colonies (Simon's Town) and a seal island are all available (Hout Bay). Some of the top vineyards in the country are located near to the city. Many leaders of the anti-apartheid struggle were born in Cape Town, according to its history. In fact, it was in this city that Nelson Mandela delivered the speech that signaled the start of the country's new era.
Also see: Countries with the beautiful women in the world
7. Vancouver, (Canada): Vancouver's stunning mountains, wildlife-filled waterways (where orcas call home), and lush rain forests (where bears wander freely) overshadow the city's grandeur, which is reflected in gorgeous glass towers.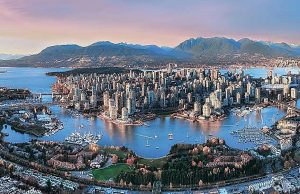 Add in the laid-back attitude of its super-friendly residents, and you're in for an amazing trip… as long as it doesn't rain. Best time to visit: Because Vancouver is known for its heavy rains in the autumn, winter, and spring, travel between June and September for the most consistent and dry weather.
8. Amsterdam, Netherlands: Thousands of historic brick buildings border the city's main canals, creating a visual unity that includes monuments, residential flats, restaurants, trendy cafés, and even brothels. With a latticework of beautiful bridges and canals, stunning cobblestone streets, breathtakingly elegant architecture, and bikes, lots of bikes, this is without a doubt one of the world's most charming and trendy cities.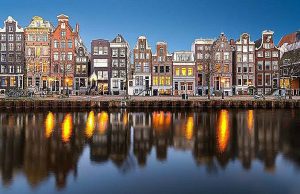 Amsterdam is best visited in the spring, from April to May, or in the fall, from September to November, just before or after the peak tourist season in the summer. You'll encounter fewer visitors, enjoy milder temperatures (the city's weather is famously fickle), and get to know Amsterdam as the residents do, at its most laid-back.
Recommended: Countries with the most handsome men in the world
9. Hong Kong, China: Hong Kong, commonly known as the "Pearl of the Orient," boasts without a doubt one of the most photographed and magnificent city skylines in the world. The spectacular metropolitan panorama created by the towering skyscrapers and modern structures set against the green mountain backdrop is unsurpassed in the globe.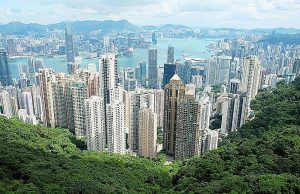 Apart from its skyscrapers, Hong Kong is recognized for its bustling lifestyle, friendly people, a beautiful harbor, a plethora of shopping, and a diverse array of restaurants and cuisines. The city enjoys a moderate climate with beautiful, sunny days from mid-September to the end of February. From May through mid-September, the weather may be hot, humid, and humid, with August being the wettest (and the peak of typhoon season).
10. Istanbul, Turkey: In Istanbul's gardens and beautiful structures, opulence and old beauty collide. A number of armies acquired possession of the Turkish city as a way to connect the East and the West, but it wasn't until the Byzantine Empire that a unique style emerged.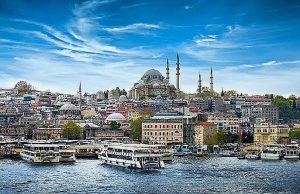 Mosaics and frescoes adorned churches and palaces, many of which have survived to this day, such as the Hagia Sophia. When the Ottomans took power, they began a construction spree that included imperial mosques, such as the Blue Mosque, and lavish galleries. Many of these important monuments are still standing in the city today, providing tourists with an insight into the past.
Also see: African countries where snow still falls till today
11. Athens, Greece: Many of Greece's lovely villages have grown in popularity in recent years, but Athens remains the country's crown gem. The Acropolis' famed remains serve as visionary teachings is not just architecture and art, but also civilization.
The capital, on the other hand, isn't locked in the past, as a new generation of artists, designers, and philosophers continue to transform the historic city into a playground for new ideas. The Athens Was is a designer's fantasy hotel, paying tribute to mid-century modernism with furniture by Eileen Gray and Le Corbusier, all while being located in the midst of the ancient town.
12. Chiang Mai, Thailand: Thailand has some of the most dynamic cities in the world, as well as beautiful surroundings such as its lush forests. Chiang Mai, Thailand's northernmost city, offers a taste of both since the historic trading outpost is surrounded by massive mountain ranges.
By day, visitors may climb through the jungle to the ancient Wat Palad temple complex and then down the mountain to experience the city's food and beverage scene. The "Rose of the North" also boasts a burgeoning art culture, with contemporary art galleries like the Gongdee Gallery springing up all throughout the city.
Recommended: Most Dangerous Foods in The World (With Pictures)
13. Vienna, Austria: The capital and greatest city of Austria, Vienna, is one of the most picturesque cities in the world and on the entire European continent. Here, one can find some of the most stunning structures and well-known tourist destinations in the entire world.In particular, if you love the arts and music, the multicultural metropolis has a lot to offer. Whether you visit Vienna for a weekend or a whole week, you won't have any trouble finding things to do.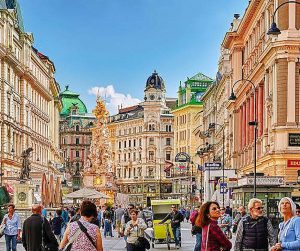 If you want to discover Austrian culture outside of the city, Vienna has a variety of day trip options with its stunning Baroque structures, history, and culture. In Vienna, there are innumerable sights and activities to enjoy. There are several events and a thriving nightlife in the city. From picturesque parks and museums to traditional Viennan cafes serving wonderful Austrian cuisine, there is always something for every type of traveler.
Also see: Advantages Of Android Over IPhone in 2023
14. San Miguel De Allende, Mexico: San Miguel de Allende is possibly the most beautiful tiny town in all of Mexico. But it's not a pueblito; it's a vibrant city in the colonial style with a booming wine culture, a plethora of marketplaces and artisans, and one of Mexico's best culinary scenes.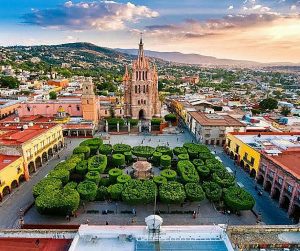 San Miguel de Allende, which exudes old-world beauty, serves as a center for the arts for regional artisans, eminent designers, and fans from all over the world. Numerous renowned stores, adorable boutique hotels, and esteemed restaurants may be found among the beautiful Spanish baroque architecture and cobblestone alleyways. La Parroquia, a beautiful neo-gothic church constructed of pink stone and featuring the work of local stonemason Zeferino Gutiérrez, is located in the middle of the 500-year-old city.
Recommended: Differences Between Preference And Ordinary shares
15. CARTAGENA, COLOMBIA: The vibrant Colonial-style homes and bustling street corners of Cartagena, Colombia, radiate a joyful attitude. Old city walls constructed by the Spanish between the 16th and 18th centuries enclose the city's historic center, which is located on the Caribbean coast.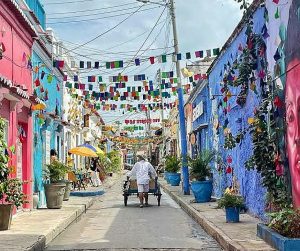 Within those boundaries are several breathtaking sights, like the Clock Tower, San Pedro Claver, and mouthwatering eateries like El Portal de las Dulces, a whole street dedicated to sweets. Getseman, which is located just south of the walled city, provides a more personal experience with its charming cafes and youthful paintings painted by regional artists.
16. FLORENCE, ITALY: Florence, one of the richest towns in medieval Europe, was a center of commerce and finance. It is widely accepted by experts that it served as the seedbed for the Renaissance and later developed into a prominent hub for art, culture, commerce, politics, economics, and banking.This cradle of the Renaissance is home to top-notch museums, beautiful examples of architecture, and some of the most coveted stores in the entire world.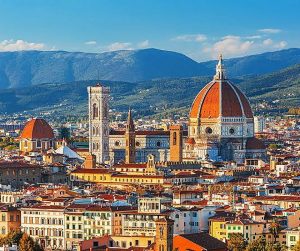 However, Florence's main allure lies in its capacity to respect the past while embracing contemporary lifestyles. After spending hours exploring the Uffizi Gallery and Museo dell'Opera del Duomo, visitors can descend to Locale Firenze, where molecular mixology-trained bartenders serve unique cocktails in handblown glasses and miniature gardens. Walking by the gorgeous piazzas and cathedrals that are sparkling in the moonlight is an utterly amazing experience.
Recommended: Youngest presidents in the world 2023
Conclusion
Art and architecture, sparkling seas, mountain heights, and the people and their history are all examples of beauty. The cities listed above are only a small sample of the world's most beautiful cities, as each has its own distinct nature and surroundings. It's difficult to say which cities are lovely and which aren't. To avoid dispute, most tourists consider other aspects such as the size of the city, its architecture, green spaces, legacy, historical-artistic set, and if they have rich gastronomy of their own, in addition to their own experiences.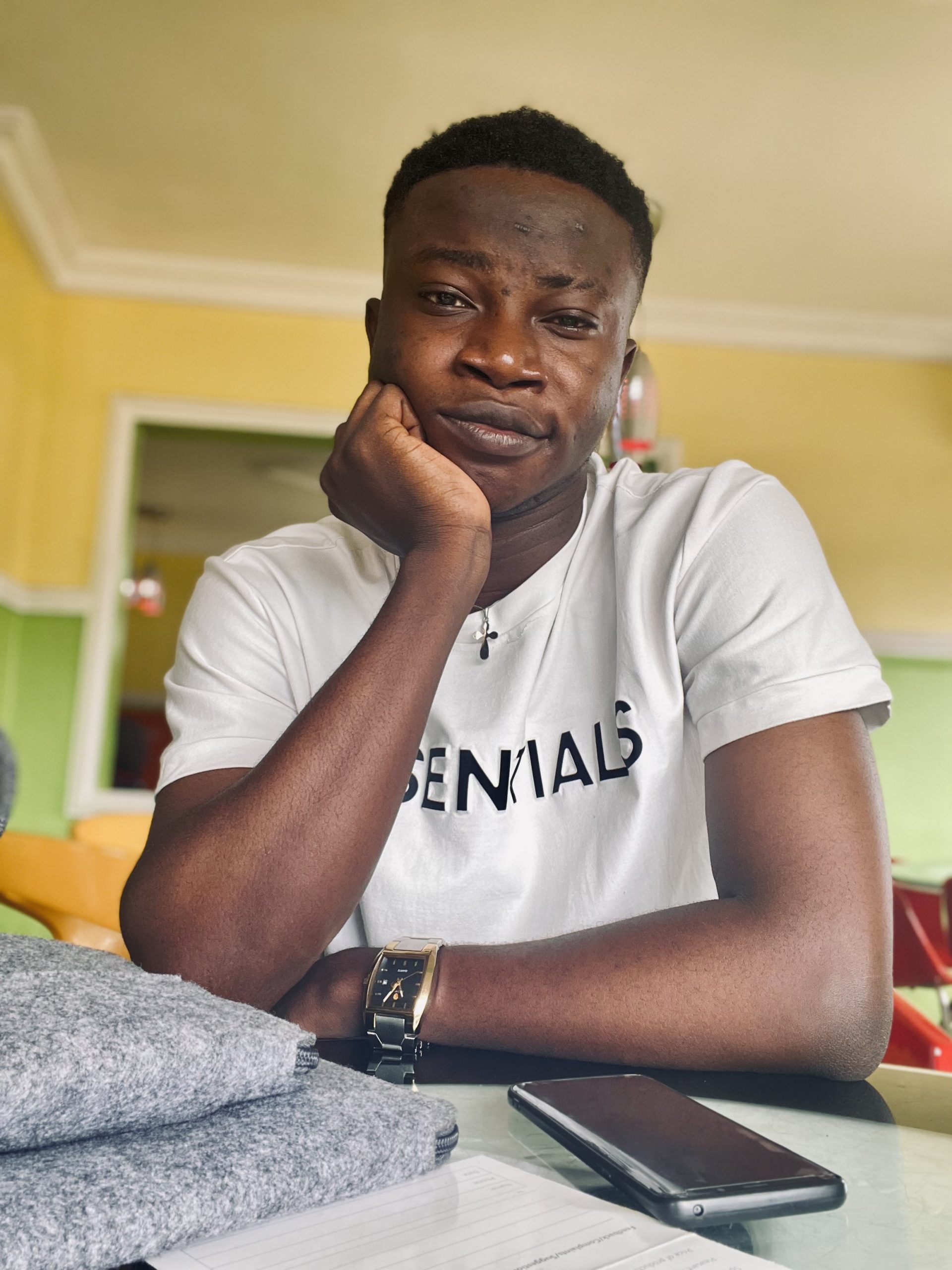 Edeh Samuel Chukwuemeka ACMC, is a Law Student and a Certified Mediator/Conciliator in Nigeria. He is also a Developer with knowledge in HTML, CSS, JS, PHP and React Native. Samuel is bent on changing the legal profession by building Web and Mobile Apps that will make legal research a lot easier.